A DAY IN THE LIFE: JALEN CHATFIELD
Sep 12, 2018
When Jalen Chatfield is in Utica, it's hard for him to go unnoticed. Not much changes during his time away, either.
His summer is spent in Windsor, Ontario, separated from Detroit by the half-mile-wide Detroit River. Growing in Ypsilanti, Michigan, located about 40 minutes from the border, Chatfield was never too far away from his current hometown.
Chatfield was first introduced to Windsor when he was 18 years old and embarking on a career in the OHL with the Spitfires. Three seasons and a Memorial Cup later, Chatfield still has plenty of moments where he can't avoid recognition while he's out and about in town.
"I know hockey is a huge part of my life," Chatfield said. "But every day I just want to be an easygoing guy."
There's plenty to do in Windsor, but summertime for Chatfield and his girlfriend, Drew, is a time to play catch up and enjoy each other's presence. Last year, Chatfield came out to Utica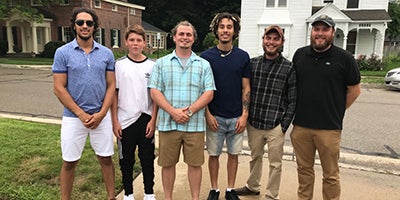 for his first year of pro hockey and Drew stayed at home. This time around, she's getting her first taste of the town in Jalen's second tour.
"She's excited to take on a new adventure," Chatfield said. "She's leaving her hometown for the first time ever, but she was able to visit quite a bit last season, so there's a little familiarity."
He's on the ice most of the week, and part of the reason he elected to spend his summer in Windsor was because of the quality of players that train around him.
The town also provides a laundry list of ways to stay entertained. Jalen and Drew can often times be found boating around on the Detroit River, by the pool, or enjoying a nice dinner out. They sometimes even cross the border into Detroit for an evening on the town, exploring all that the neighboring city can offer.
Though he's enjoying his summer months, Jalen can't wait to return to Utica in the near future. "I miss the guys when I'm gone," he said.
When he does arrive in Utica, he'll face a challenge that just about every one of his teammates faces. Relationships with family and friends are a little tougher to maintain with a distance, especially with a recent family move. His parents, Scott and Tomara, along with Jalen's four siblings, have recently moved to Florida.
"They absolutely love it down there," he noted. "They're going to be watching a whole lot of games on the new AHL TV this season."
Back to All