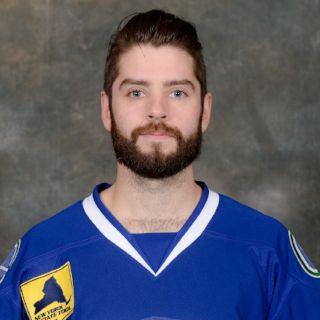 Richard Bachman
G
#32
DOB: 7/25/1987
Ht: 5-10
Wt: 176
Shoots: L
Years on Team: 1
Hometown: Salt Lake City, UT
Drafted: 2006
2015-16: Recorded a win in his lone appearance for the Canucks this season. He stopped 28 of the Arizona Coyotes' 31 shots on goal on Oct. 15….Reassigned to Utica on Nov. 9…Recorded first shutout for the Comets on Jan. 16 vs Albany (1-0 W)...Won Honda Three Stars Award given to the player that was selected one of the three most impactful players of the game this season. The first year Comet was named one of the three stars in 23 games, while playing in just 35 games this season. Bachman was named the first star of the game four times, most on the team.

2014-15: Recorded first victory of the season with a 39 save performance on Oct. 24 vs San Antonio and was named first star…Named to AHL All-Star team…Appeared in six games for the Edmonton Oilers….Stopped 56 of 57 shots in a quadruple overtime playoff game against Utica on May 6 in the Western Conference Quarterfinals en route to a 2-1 win.

2013-14: Matched the Barons' record for wins in a season (26, with Yann Danis) and set the mark for appearances (52) and minutes (3,074) while going 26-19-6 with 2 shutouts, a 2.99 GAA and .908 save percentage...Opened the season with the Barons, but was recalled by Edmonton Oct. 27 and appeared for the Oilers that night in Los Angeles, stopping 47 of 48 shots in a 2-1 shootout loss...Started 3 straight games for the Oilers before sustaining a groin injury in the final start Nov. 2 vs. Detroit...Returned on loan to the Barons Dec. 10 and finished the season with OKC. · Won six straight starts from Jan. 30-Feb. 14...Started 12 straight games from Jan. 30-March 1, going 9-2-1.

2012-13: Third season with Skelleftea AIK of the Swedish Hockey League…5th year pro…Compiled a 21-9 record in 30 games played, and a 1.70 goals-against average with 5 shutouts…Led the team to a Regular Season title…Recorded a 1.06 GAA and .952% save percentage in 10 playoff games en route to the Elitserien Championship.
2011-12: Made NHL debut with a win for Dallas on Dec. 10 at Los Angeles...Earned first NHL shutout Dec. 13, 2011, stopping 34 Rangers shots in a 1-0 win at Madison Square Garden…Represented the United States at the 2012 IIHF World Hockey Championship in Helsinki and Stockholm, earning a win in his only start against Kazakhstan.

2010-11: With Brent Krahn sidelined with injury once again, Bachman was thrust into a full-time AHL role. As a rookie, Bachman finished top-five in all major statistical goalie categories (wins, GAA, save pct., shutouts and saves) among all American League netminders.

2009-10: Bachman turned pro, starting the year with the Idaho Steelheads(ECHL). He went 22-7-4 with a 2.28 GAA and a .910 save percentage. He was promoted to the Texas Stars(AHL), going 4-4-0 with a 2.15 GAA and a .932 save percentage...2007-08: Bachman got his first taste of NCAA hockey with Colorado College. Bachman won 25 of 35 games with a sub-2.00 GAA and .931 save percentage. He was named the WCHA Player of the Year and Rookie of the Year; the only other player to accomplish this feat was Curtis Joseph...2008-09: In his Sophomore season with Colorado College(NCAA), Bachman went 14-11-10, finishing with a 2.63 GAA and a .914 save percentage...2006-07: With Chicago (USHL) Bachman went 2-5 with a 4.85 GAA and .888 save percentage before being dealt from another Stars prospect, Pat McGann. Bachman improved with his new club Cedar Rapids and brought his GAA back under 3 (2.99) and his save percentage back over .900 (.913). He committed to Colorado College for 2007-08.
Read More