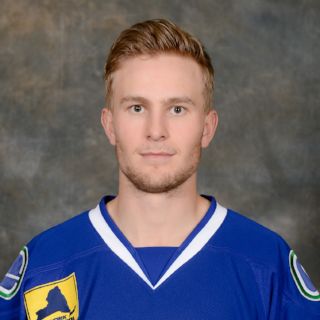 Carter Bancks
LW
#34
DOB: 8/9/1989
Ht: 5-11
Wt: 185
Shoots: L
Years on Team: 1
Hometown: Marysville, BC
2015-16: Played in 300th professional game on Nov. 27 @ POR…Recorded first two goal game in same game…Scored OT GWG for franchise's 100th victory in 1-0 win over Albany on Jan. 16…Recorded a three point night (1-2-3) on Feb. 5 at STJ…Scored GWG with 55.5 seconds left to defeat RCH on Mar. 29.

2014-15: Signed a PTO with Comets in Training Camp…Scored first goal as a Comet on Oct. 17 at San Antonio…Named third star for two-point game (1-1-2) on Oct. 17 at San Antonio…Signed to an SPC on Nov. 18.

2012-13: Scored game-winning goal in shootout on 10/02/13 vs. Lake Erie

2011-12: Awarded Community Player of the Year honours in Heat's season end awards... Made season debut on 21/10/11 against Milwaukee recording one shot on net.

2010-11: Recorded nineteen points in an injury shortened season with 29 games played...Scored first AHL goal in season opening 3-2 SO win over Grand Rapids...Second most productive player on roster with 0.66 Pts/GP...Finished second on team with plus/minus of +4...Compiled five game point streak stretching from 11/12/10 to 3/29/11 (2-3-5)...Recorded two assists in 3-2 win at Toronto on 10/11/10...Tallied three assist in a 6-0 victory at Grand Rapids on 4/8/11...Scored a shorthanded goal in 4-2 home win vs. Milwaukee on 30/10/10.

2009-2010: Made professional debut on 3/26/2010 at home against Hamilton...Suited up for all 13 playoff games recording one assist...Recorded first professional assist on 4/6/10 in Game 4 4-1 win vs. Hamilton...Played 70 games for the Lethbridge Hurricanes (WHL) recording 55 points prior to professional debut.
Read More