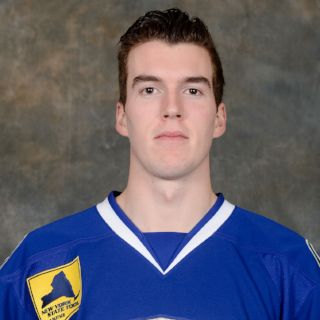 Joseph LaBate
LW
#16
DOB: 4/16/1993
Ht: 6-4
Wt: 205
Shoots: L
Years on Team: 1
Hometown: Eagan, MN
2015-16: Recorded first point as a professional with an assist on Oct. 30 @ BGH…Scored first professional goal on Nov. 25 vs LV…Recorded first multi-point game of his career with a goal and an assist on Jan. 10 @ HER…Recorded first multi-goal night on Apr. 2 at Binghamton...Produced nine points (4-5-9) over a 15 game stretch from March 12 to April 10, following just 10 points (5-5-10) in his first 48 games of the season.

2014-15: Was named a team captain…Led all Badgers with assists (12)…Was second on the team in goals (6) and points (18)…Made his professional debut on April 11 in 3-2 shootout loss in Binghamton.

2013-14: Labate shifted from wing to center in his junior season at Wisconsin and skated in all 37 games for the Badgers. He scored a career-high 11 goals with 11 assists and was -3 with 22 penalty minutes. The Badgers finished second in the inaugural season of the Big Ten conference and earned an NCAA Tournament berth, defeating Ohio State, 5-4 in overtime, in the conference championship game. Wisconsin lost 5-2 to North Dakota in the NCAA Midwest Regional semifinals.

2012-13: Labate was the fifth-leading scorer for WCHA playoff champion Wisconsin in his sophomore season. Playing left wing most of the season on the Badgers' top two lines, he scored 9 goals with 4 assists and was +11 with 51 penalty minutes in 41 games. After finishing tied for fourth place with Denver in the regular season, Wisconsin won five straight WCHA playoff games, including a 3-2 win over Colorado College in the Broadmoor Trophy Championship game. Massachusetts-Lowell defeated the Badgers, 6-1, in the NCAA Northeast Regional semifinals.

2011-12: Labate made the jump from Minnesota high school hockey directly to college hockey; skating in 37 games for the Wisconsin Badgers as a freshman. In what was an otherwise disappointing season team-wise, Labate was the Badgers' fifth-leading scorer. He scored 5 goals with 15 assists and was plus-3 with 24 penalty minutes. Wisconsin suffered just its third losing season since coach Mike Eaves took over in 2002-03, finishing tenth in the WCHA.

2010-11: Labate played for Holy Angels, scoring 27 goals and adding 22 assists for 49 points in 25 games. In 1 playoff game, Labate scored 2 goals and added 1 assist for 3 points. Labate also played for Team Southeast in the Upper Midwest Elite League, scoring 2 goals and adding 6 assists for 8 points in 5 games. His time with that team was shortened due to a foot injury. In 3 playoff games, he scored 4 goals and added 2 assists for 6 points. Labate was a finalist for the 2011 Minnesota Mr. Hockey Award. Labate has committed to the University of Wisconsin. He was ranked 51st amongst North American skaters in the Central Scouting final rankings and was selected by Vancouver in the fourth round (101st overall) in the 2011 NHL Draft.

2009-10: Joseph Labate played for Holy Angels Academy in Richfield, Minnesota. In 25 games, he scored 25 goals and added 29 assists for 58 points. In 2 playoff games, he picked up 1 assist.
Read More