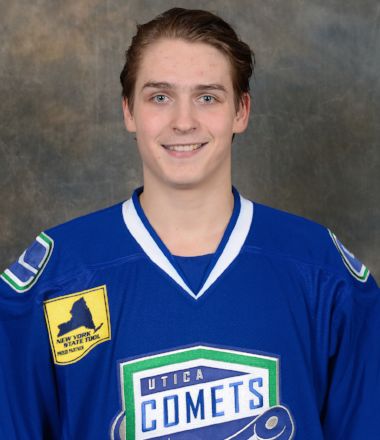 Jake Virtanen
F
#18
DOB: 8/17/1996
Ht: 6-1
Wt: 208
Shoots: Right
Hometown: New Westminster, BC
2015-16: Made NHL debut on Oct. 13 vs Los Angeles…Scored first NHL goal against Philadelphia in a game on Nov. 4…Assigned to Utica on conditioning on Dec. 8.
2014-15: Completed his fourth season playing for the WHL Calgary Hitmen. He helped his club advance to the WHL Eastern Conference final, where he registered 13 points (5-8-13) in 14 playoff games. During the regular season, the 6'1", 212-pound forward tallied 52 points (21-31-52) and 82 penalty minutes in 50 games played. He ranked third on the team in points per game at 1.04....Made pro hockey debut with the Comets on June 12 in Game 6 of the Western Conference Semifinals against Oklahoma City.
2013-14: Virtanen won a gold medal playing for Canada's U18 team at the 2013 Ivan Hlinka Memorial Tournament in August before returning to Calgary for his second WHL season. He finished the year playing for Canada in the 2014 U18 World Juniors in Finland. Virtanen scored 45 goals with 26 assists and was +23 with 100 points in 71 regular season games for the Hitmen. Tied with eventual Memorial Cup champion Edmonton Oil Kings with 103 points in the regular season, the Hitmen finished first in the Central Division based on more wins before Kootenay defeated Calgary in a six-game first round playoff series. Virtanen scored 1 goal with 3 assists and was -2 with 4 penalty minutes in six playoff games. He had 1 assist and was -2 with 4 penalty minutes in five games at the Ivan Hlinka tournament. In seven games at the U18 WJC he scored 3 goals with 3 assists and was +2 with 10 penalty minutes despite a nagging shoulder injury that required off-season surgery. Virtanen was ranked sixth amongst North American skaters in the Central Scouting final rankings and was selected by Vancouver in the first round (sixth overall) in the 2014 NHL Draft.
2012-13: Virtanen skated in 62 games for Calgary as a 16-year-old in his first full WHL season and represented Canada Pacific in the 2013 U17 World Hockey Challenge. He scored 16 goals with 18 assists and was +25 with 67 penalty minutes for the Hitmen. Calgary finished second in the Midwest Division and lost to first-place Edmonton in the East Conference Finals. Virtanen scored 2 goals with 4 assists and was -2 with 27 penalty minutes in 15 playoff games. He scored 5 goals with 2 assists and had 8 penalty minutes in five games for Canada Pacific.
2011-12: Virtanen made his WHL debut — skating in nine regular season games and four playoff contests with Calgary — and was the third leading scorer for the Fraser Valley Bruins in the B.C. midget major hockey league. He scored 3 goals with 1 assist and was +3 with 4 penalty minutes in the regular season with the Hitmen. Calgary lost to Brandon in a first round series after finishing second to WHL champion Edmonton in the Central Division. Virtanen had no points and was -4 with 4 penalty minutes in the five game series against the Wheat Kings. In 39 games with Fraser Valley he scored 17 goals with 22 assists and a team-high 120 penalty minutes. Virtanen was the leading scorer for third-place Team British Columbia with five goals in four games at the 2011 Western Canada U16 Challenge Cup.
Read More