A DAY IN THE LIFE: CARTER BANCKS
Aug 2, 2018
About four hours from Calgary and nestled in a valley between the Rocky and Purcell Mountain ranges, you'll find a quiet British Columbian town called Kimberley. Home to around 5,000 people, Kimberley is a haven for the outdoorsman, providing world-class hiking, fishing, golf, and more.
One of the locals who capitalizes on all that Kimberley has to offer is Comets forward, Carter Bancks. Born in Calgary, Bancks was raised in the small, mountain town, 28 kilometers (about 17 miles) northwest of Cranbrook, BC, which is most often associated as the hometowns of NHL legends Steve Yzerman and the Niedermayer brothers.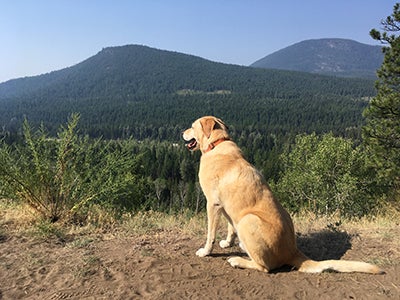 Summertime for hockey players provides moments of relaxation and reflection, while offering a chance to partake in some other hobbies. For Bancks, the morning usually starts with a walk alongside his 10-year-old yellow lab, Duke. After a stroll with his four-legged friend, Bancks will hop on his bike for a whirl before heading off to the gym to make sure he doesn't neglect his day-job during the off months.
His summer workout plan is built by the Vancouver Canucks staff and, this time of year, focuses on high-weight, low-rep routines that help build strength for hockey season. But when he's not lifting in the gym or on the ice, you might be able to find him fly fishing or working on his golf game at one of Kimberley's championship golf courses. There's eight of them within fifteen minutes of his home.
"My golf game is pretty good right now," Bancks said, almost hiding a secret. Though he's too modest to admit right away, his secret finally came out: "I'm a scratch golfer," he quietly disclosed. He usually tries to squeeze in his rounds during the week, helping to avoid the wave of tourists that flock to Kimberley's beauty on the weekends.
When his action-packed day winds down, Bancks and his girlfriend, Lauren, who's a teacher at a local school in Kimberley, usually sit down for dinner at home. "Lauren's a great cook," he said. "We love to end our days with a home-cooked meal."
When Bancks is in Utica, he's Carter Bancks the hockey player. When he's back home in Kimberley, he's Carter Bancks, the son of two educators (his mom was the school principal and his dad was a teacher). Kimberley is small. Small enough for everyone to know everyone else.
There's two seasons to Bancks' life: hockey season and the off-season. When he's in Utica for the former, there are certain parts of Kimberley that he can't get off the mind. "I miss the mountains, my family, and my friends." he said. "It's very relaxed back home."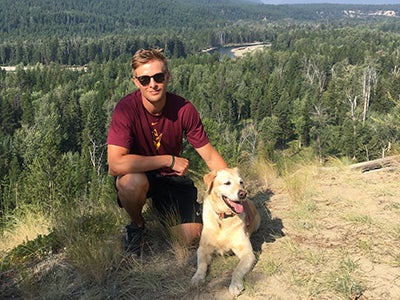 When he's living his relaxed life in Kimberley, there's certainly moments that he misses from Utica. "I miss the game and playing meaningful hockey. I miss The AUD and the guys in the locker room," he said. "I miss the restaurants in Utica, too."
Though he's enjoying his time back home in British Columbia, it was easy to hear the excitement in his voice when he mentions the countdown of returning to Utica for his fifth season in Central New York with the Comets.
Back to All