CATCHING UP WITH DYLAN BLUJUS
Jul 31, 2019
Utica Comets defenseman Dylan Blujus recently inked an extension with the team and is set to embark on his fifth season of pro hockey. The Buffalo, New York native has proven to be a reliable, shot-blocking defenseman who has grown immensely over the past few years. We sat down with Blujus to catch up on how he's spending his summer and preparing for the 2019-20 campaign.
Utica Comets: Re-signing in Utica has to be pretty exciting for you. You're building an identity here as a shot blocker and reliable guy on the back end, how exciting was it to sign an extension with the team?
Dylan Blujus: It definitely was exciting to sign back in Utica, it's a spot where I feel comfortable. I've gained the trust of the coaches over the past few years so I feel confident going in. I'm also familiar with the city, it's a great place to play in and I'm just excited to get back there and get it going.
UC: What have you been doing this summer?
DB: Just the typical hockey summer. Working out, skating and being on the golf course as much as I can.
UC: How's your golf game coming along?
DB: It's great, I've been playing a lot more, which is probably why it's improved a lot. Right now my handicap is probably like an eight right now.
UC: Not quite ready to catch up to (scratch golfer) Carter (Bancks) yet, then?
DB: No, not quite ready to do that, I don't know if I'll ever catch him. He's definitely got a lot more commitment to the course than I do.
UC: Have you been in Buffalo all summer, or have you done any vacationing?
DB: I went to Florida after the season for a little bit. I also went out to Vegas with (Cam) Darcy.
UC: You and Darcy went out to Vegas, what did you do there?
DB: It was almost a repeat every single day, wake up, eat and go to a pool party & hit the club at night. It was actually Rob's (Gronkowski) retirement party, so we had a pretty good hookup the whole week. There were a lot of people there, I think half of Buffalo and a quarter of Boston.
UC: Was Tom Brady there?
DB: No. He must have missed his flight.
UC: Who are you skating with this summer, anybody noteable?
DB: I'm seeing a lot of (Buffalo) Sabre guys, and some other guys like Dennis Gilbert (Rockford), and Cole Schneider (Milwaukee), who's been in the upstate area a while. A lot of young guys, and some Sabres prospects and some of their players.
UC: You and Darcy have been together since Syracuse (2015-16), what's it like when a guy you've been with for so long ends up signing somewhere else?
DB: Since Darcy's been pro I've played with him every single year so it's going to be weird not having him on my team. It's funny, before he signed in San Antonio, he sent me an apologetic text saying "dude, sorry. I think I'm heading out to San Antonio." I said "it's your hockey career, it's a great opportunity for you." I'm happy for him and I'll find a way to visit him at some point.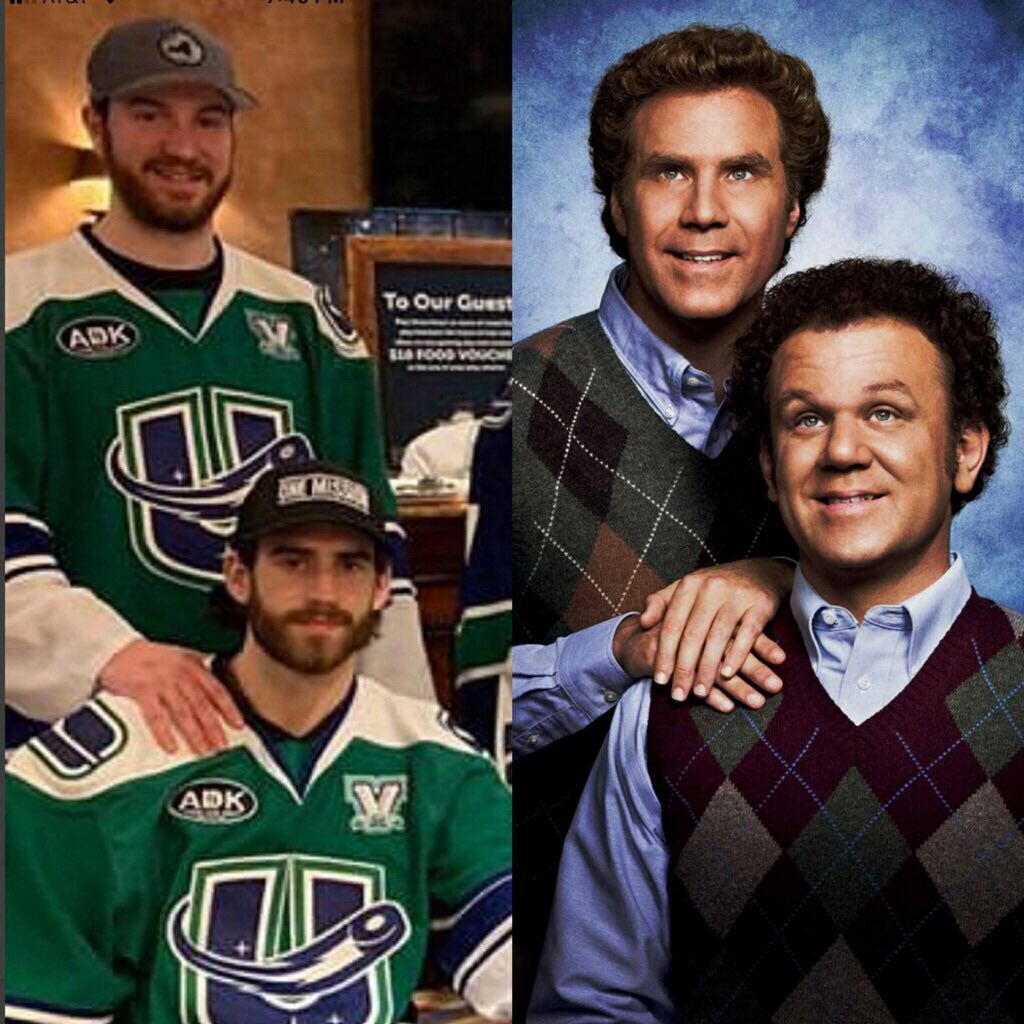 UC: Who's going to be your "Step Brother" now?
DB: I don't know, that's going to be tough. There's some big shoes to fill not having Darcy there. There's a good group of guys there though so I'm sure I'll be fine.
Back to All