COMETS' PARMELEE - THREE-TIME AHL ALL-STAR
Feb 5, 2018
Utica Comets' equipment manager Damion Parmelee knows how to take care of hockey's best players.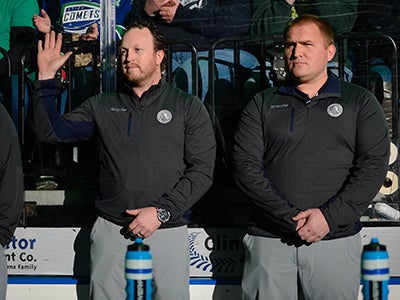 Three of the last four AHL All-Star Classics Parmelee has been busy. Along with his co-worker Greg Lowden, there have been no mini-vacations planned with family. It has been hockey business as close to usual for Parmelee, just the names and faces change. And need to be learned - quickly.

Being selected to work the All-Star Classic, consisting of the skills competition, followed the next evening with the Challenge, is accepted by Parmelee as a badge of honor. It also comes with a very hectic schedule.

"On Saturday (January 27), we (Comets) returned from Lehigh Valley at 2:30 a.m. By the time Greg and I finished setting up the Eastern Conference's dressing room, it was 4:30 a.m. Then the two of us returned to the rink four hours later," Parmelee says with a rested look now that the event is a week behind him.
The particulars in how the Comets' equipment crew find themselves behind the bench and in the dressing room is rather fascinating. For both the 2015 All-Star Classic held at Adirondack Bank Center at Utica Memorial Auditorium, and last weeks's mid-season league celebration, the host city's team is invited to work the weekend.

AHL Executive Vice-President of Marketing and Development Chris Nikolis is who contacted Parmelee, to formally request his services for the Classic. When the AHL released its 2017-'18 schedule, the formality unfolded. Parmelee and Lowden wouldn't be altering their season-long schedule.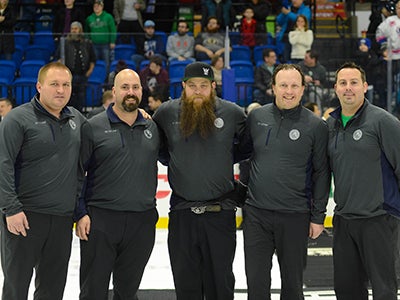 As Parmelee explains, the team who wins the Calder Cup in the spring before the next season begins, their equipment crew automatically gets chosen to work their conference's dressing room at the Classic.

So, how did Parmelee find himself in Syracuse on February 1,2016, and working the game?

"Because Manchester (who left the AHL following winning the Calder Cup in 2015) moved, Utica was the closest city to Syracuse. That's why we were asked to participate."

Not giving himself the well-deserved pat on his back for the fast turn around, from regular season mode to learning needs of strangers within hours, Parmelee credits his regular season regimental ways of getting him through Classic time.
"It's simple, once you get organized," Parmelee tells, while taking a rare pre-game break prior to last Friday's Comets' home game with the Syracuse Crunch. "The league sends you helmets, gloves, everything we'll need."
Even with ample supply of player gear, the man hours needed to keep the Classic machine in constant motion for the better part of 48 hours is brutal.
After a four-hour rest from the Lehigh Valley trip, and dressing up the Eastern Conference's room for the skills competition, Parmelee wouldn't head for his New Hartford home until midnight. After another early entrance to ADK Bank Center on Monday morning, Parmelee estimates after the North's victory, he would turn off the dressing room lights somewhere between 1:00 - 2:00 a.m. - Tuesday.
In being part of the Classic, Parmelee is compensated by his players. There is customized apparel issued to Parmelee in recognition of his partaking in the AHL's premiere event. "Only the winning team gets paid," explains Parmelee.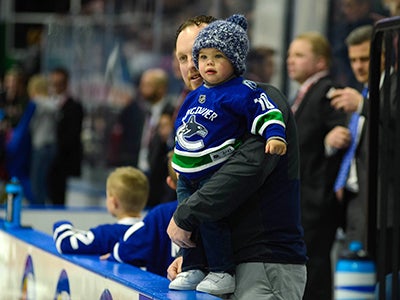 Aside from the tangible benefits of working "extra hours" with the All-Stars, there's the camera moments that Parmelee embraces. During the skills competition, Wyatt Parmelee, Damion and Ashley's young son, had the best seat in the house, while being held by dad.
"It wasn't really that crazy. CCM supplies everything. Basically, the players just have to tell me if they want a thin or thick visor. And when the players arrive, then we alter their gloves - and have fun," Parmelee states.
As for why Parmelee and Lowden weren't out of ADK Bank Center until 1:00 - 2:00 a.m. after the three-on-three play, plus the finals, a clean-up was performed in the dressing room. Finally, the Comets' equipment needed to be moved back into its rightful spots.
In-between creating a "temporary home" for visiting players, Parmelee made frequent visits to Turning Stone Resort and Casino in Verona (NY). As players' gear was arriving at the Classic's headquarters, the back-and-forth shuttling was necessary to have the the dressing room fit for its residents.
"You sharpen skates, whatever the guys need, as they roll in. The first guy here on Sunday was Grenier (former Comet Alexandre Grenier), that was at 4:30 pm," Parmelee remembers.
The work demands for Parmelee come All-Star time is border-line chaotic. But, the hours rival that of a daily Comets schedule. On days of regular season games at home, Parmelee figures to leave ADK Bank Center by midnight. On a practice day, and no game, normal is being in at 7:30 a.m., and driving back to his family by 6:00 p.m. the latest.
A constant take-away for Parmelee during his trio of All-Star experiences is having fun, and being able to make new friends. "Before this past (Classic event), if I walked by Mitchell Stephens (Syracuse Crunch center), I wouldn't have known him. Now, it's totally different," Parmelee said.
Parmelee's biggest take-away from his Classic experiences can best be summed up in one word - organized.
Eighteen professional hockey seasons under his belt, having two ECHL All-Star events to his credit, Parmelee's "game" rises just as high as the players he is charged to care for during the league's time to shine.
written by Don Laible
Back to All