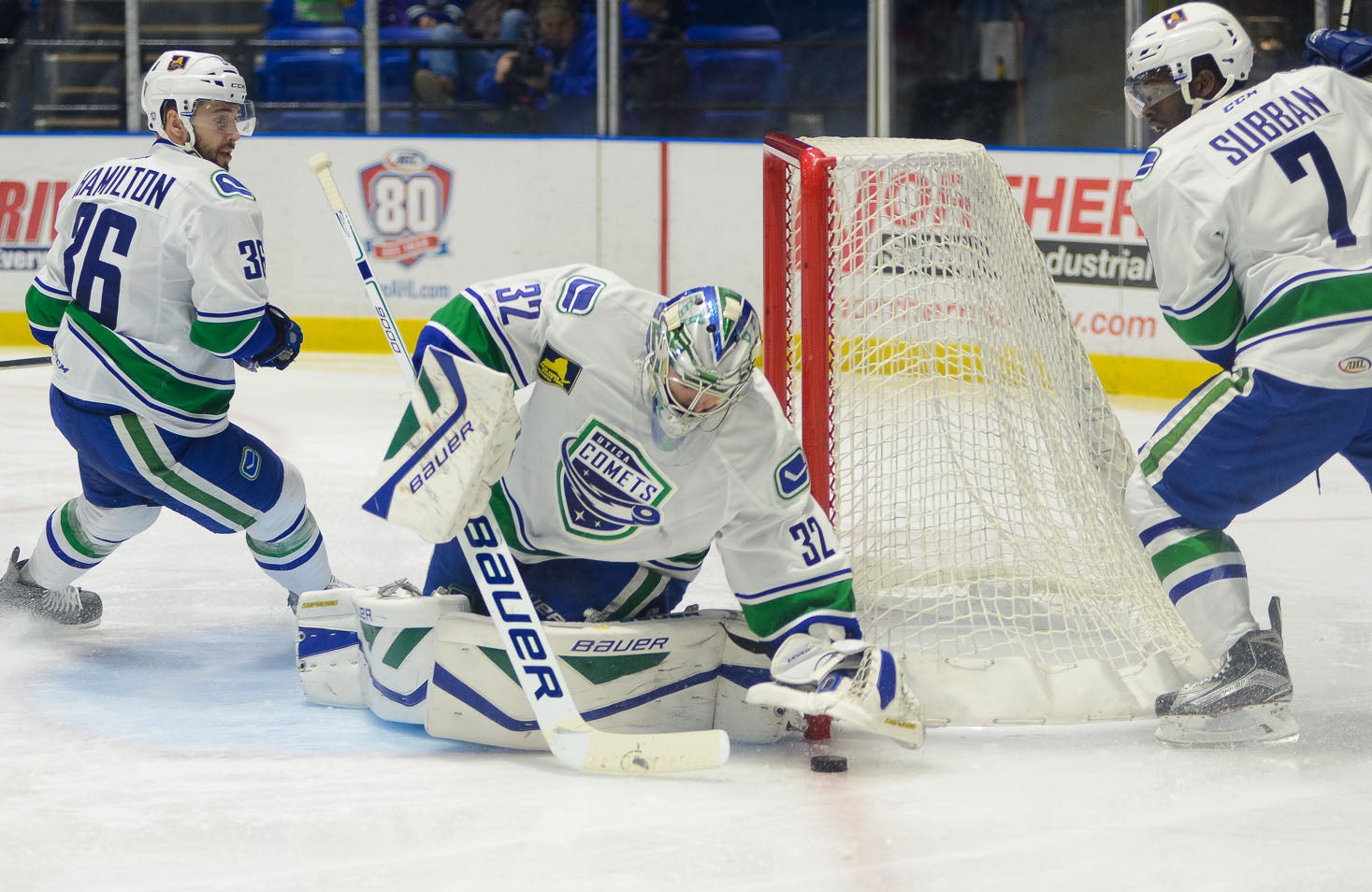 Comets Tales: Bachman's Ride to Utica
by Don Laible
Dec 14, 2015
Richard Bachman can tell a good story. Have you heard the one about the Comets' goalie leaving Utica for Calgary back in September?
Let's set the scene.
On a crisp Wednesday morning, just days after being sent to Utica by the Vancouver Canucks for Jacob Markstrom, Bachman had just completed only his second practice on AUD ice.
Members of the media hover around the 28-year-old pro, for a how-do-you-do session. The last time they, and the Utica fan base saw Bachman with pads and mask were last spring, during the Comets Calder Cup run. Back then, he was an enemy, probably public enemy #1 if we're being honest.
Perhaps it was Bachman's 1.75 goals against average in the seven game series, or his 39-save performance in a winner-takes-all Game 7 that put a big, fat bullseye on his soon-to-be free-agent back. Whatever it was, Bachman's performance in that series was forged into the Canucks and Comets' organizations collective minds, and he was signed to a two-way, two-year contract.
Due to a Markstrom preseason injury, the introduction to the locals of Bachman took a bit longer than expected. 33 days and 15 NHL games later, to be precise. The story of his crazy path from Vancouver to Utica, and then back to Vancouver back in October is an entertaining one.
Who better to offer up details on Bachman getting from point A (Vancouver) to point B (hometown Denver) to point C (Utica), next up, Point D (Calgary), then off to Point E (Vancouver) and then what eventually brought him "home" back to Point B, than the goalie himself.
As Bachman, who made his Comets regular season debut on Friday November 13 on the road opposite the Springfield Falcons, steps before pads, pens, microphones, and cameras, there is anticipation that his travels won't disappoint.
"It was a crazy few days," says Bachman, taking a deep breath and offering a half-smile. "It started on a Saturday (leaving Colorado). We drove 13 or 14 hours. The next day, I'm stuck on the road."
Bachman, accompanied by his wife and son Devyn, will be on the road for another double-digit period, before arriving in Utica. This is where the pace of Bachman's welcome to his new hockey home gains traction.
NHL goalie careers aren't linear. They're like stocks. They go up, and sometimes they go down. You can be good, you can be a little better, but you must be ready, for when "The Call" comes, which can be at anytime. For Bachman, that call was officially signaled by the Canucks on October 7.
Still smiling, now Bachman's introduction and farewell to Utica (temporarily) gets juicy in details.
"It was around 10a.m. (on Oct. 6). The movers were unloading our furniture. Then as I was I have lunch with Taylor (Fedun) at about 3:30p.m., I get a call that I'm needed with the Canucks," recalled Bachman, trying meticulously to remember his timeline, in and out of Utica, correctly. "I had about 30 minutes to find my clothes (boxes still packed), get to the rink for my gear, and head to the Syracuse airport."
Wheels up. Bachman tells of having just an hour and a half to make his flight in Syracuse, for Calgary. This is where he was to meet his Canucks teammates for the October 7 season-opener. Bachman arrived at 1:30 – that's am. Lack of sleep or mental preparation for the unexpected promotion by Vancouver is part of a hockey culture Bachman is no stranger to.
True to being a hockey-lifer, Bachman knows a thing or two about being on the move, and moving. Although the official bio records Salt Lake, Utah as Bachman's home, he sets the record straight. Born in the "Beehive State", at age two, Bachman's family moved while he was young.
"My grandpa still lives there, and I have a brother there, too," said Bachman.
The relocating done by the Bachmans included stops in Saranac Lake, NY, which allowed Richard to play hockey in Lake Placid.
When I broached the subject of playing in the shadows of the 1980 Winter Olympics, Bachman's smile broades. "Actually, that's where I got my start (Lake Placid),"said Bachman.
There are two other stops along Bachman's hockey travels that he unveiled, both clearly important enough for him to share. Highland Ranch,CO, the current home base for Bachman and his family is located just south of Denver. There, he is joined by another brother and his parents.
It was while living in the Rockies as a teen, Bachman explains of choosing to attend Cushing Academy in Massachusetts, to take his hockey interests to the next level. "Three of my friends decided to go to Cushing".
Between the pipes for 28 games at Cushing, he posted a 1.28 GAA. Here was where Bachman and his family began to think hockey could be a serious future for the goaltender.
Five leagues later and Bachman is still in the game, now stationed in Utica. He split with his Canucks teammates after the Nov. 8 game against the Devils in New Jersey, when Markstrom was officially recalled. Bachman remains confident that more NHL games are in his future.
One reason for the optimism – the game Bachman did get into while with the Canucks, he stopped 28 of 31 shots. The former Colorado College goalie led the Canucks to a 4-3 win over Arizona on October 30; his 42nd NHL appearance.
"Definitely," said Bachman, referring to a confidence boost in faring well on the NHL level. "It's huge for my game."
The Comets and Canucks have high expectations for Bachman this season. From what they have seen first-hand when playing the Barons in the past, and from what they have researched, they are sold on what Bachman brings to the rink. One example – when a freshman at Colorado College, Bachman became only the second player in WCHA history to be named player and rookie of the year in the same season.
The proof of pedigree is there. Bachman's message to his teammates couldn't be clearer.
"I just want to assimilate here," said the goaltender. "I arrived on a Monday, and the guys were immediately offering me help. With this team, it's not hard to jell with. We were together during training camp."
Before taking his last questions from reporters, Bachman understands there will be learning curves with his new teammates. So far, he gives a thumb-up to what he's seen. Bachman looks back to when he was 20 and 22-years-old. The little things rookies have to figure out, in learning to be pros, have not been forgotten by the Comets goalie.
Advice is on tap by Bachman.
As handshakes are extended between Bachman and those who have been questioning him, the smile remains on his face. The reason, it's time to go to his Utica home, to have some fun with Devyn, and to see his wife. 33 days away from the Mohawk Valley was a long stretch.
Back to All