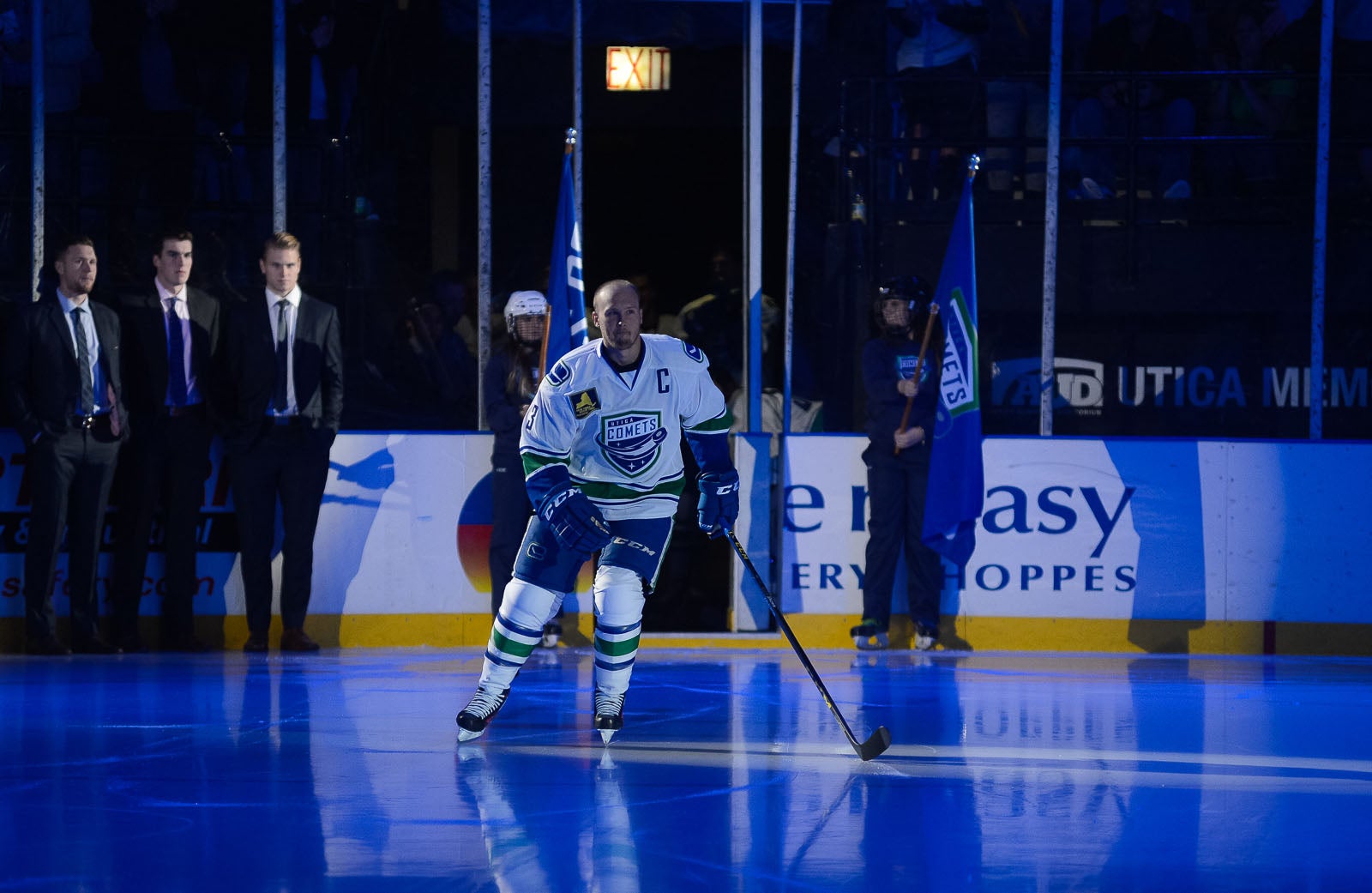 Comets Tales: Biega's Game Continues to Soar
by Don Laible
Oct 27, 2015
The Bulldog is back in a Comets sweater. This time with a very important letter on the front of it.
At first,you see a relaxed and confident Alex Biega. Practice has ended, and that warm hockey smile filters between his helmet and visor. Before hitting the showers, and turning his focus to his wife Diana and son Carter Alexander – born last April, the senior member of the Comets' defense takes questions. If you're a pro athlete, that's what you do.
When some athletes are interviewed, their answers can come across as mechanical or rehearsed. That is not the case with the Comets newly appointed captain.
Although the third-year Comets defenseman tells of taking momentum from last season's run all the way to the Calder Finals into this season, training this past summer was business as usual.
"I went back to Boston with the thought of continuing to play at a high level," says Biega, who collected 19 points last season, second among Comets defensemen. "Obviously we didn't get the result we wanted (with Manchester). I think that I had a good camp with Vancouver, and I've proven that I can be an every day NHL player."
Certainly, the confidence is there for Biega. Both his words and body posture scream leadership.
Perhaps, there are more call-ups in the works with the Canucks this season. After his first taste of NHL action last winter, the "Bulldog" is on Vancouver's radar, perhaps more so than at this time than last season.
There have been encouraging words, from the very top of the Canucks' administration towards Biega's growth within the organization. Vancouver Canucks' General Manager Jim Benning has gone on the record in stating that
"Biega can come up whenever we need him," said Benning.
"There's no better place to develop as a hockey player than the AHL. This season, we have a great group of guys; a good mix,"said Biega, who notched his first NHL goal in his NHL debut last February 16. "When you come into this league, it's a matter of becoming a professional in everything you do. Those habits start at practice. When the younger guys have questions, we have the answers for them."
With some of those veterans from the previous two seasons who are no longer sharing the same dressing room as Biega, it is going to take some time in getting used to. Biega, relaxed, and leaning against the wall across from the Comets' room, brings up two obvious names – Cal O'Reilly and Bobby Sanguinetti.
All three were mainstays for the Comets that went five games deep in the Calder Finals against the Monarchs. Listening to Biega carefully pick his words about the bond formed for him, with his former teammates runs deep.
"In Utica, this (AHL) is as close as it gets to an NHL enviornment. We (the team) were all close last year."
Excited for his former teammates that have moved on to other teams for what they feel is best for their careers, Biega doesn't mince his words. He slowly describes the comfortability factor of last season.
"It's going to be different on the power play. And playing against them will be awkward. I hated to see them leave, but that's part of the business," explained Biega.
The average age of this season's Comets defensive core is 22-years-old. Biega's experience will be as if coach Travis Green has a player-coach on the ice, as the "Bulldog" takes a shift. Combining 198 games with the Sabres' AHL affiliates, and 161 as a Comet, and counting, it's not a stretch to surmise that Vancouver is counting on Biega's experience to mentor others.
When signing for a third year with Vancouver's system this past June 30, Biega had to weigh all factors at what was best for him individually. His career can be likened to a double-edge sword. In Utica, Biega is without question a vital member to the team. At the same time, his focus remains on becoming an NHL mainstay.
Six seasons in the AHL, and before that four years skating for Harvard University, the waiting game for Biega could be getting closer to an end as his game continues to grow. For now, names such as Subban, McEneny, Sautner and Cederholm will be familiarizing themselves with how to best perform on the ice, and how to become a pro away from it by observing Biega's daily routines.
"Losing isn't fun," recalls Biega of last spring's Calder experience. "It was an unbelievable experience. Coming so close was disappointing, but exciting. After a week or two, I let it go and turned the focus to this season."
Back to All