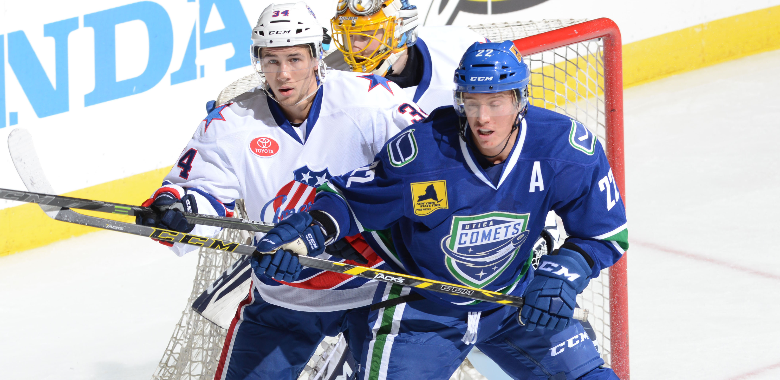 Comets Tales: Blair Jones
by Don Laible
Oct 13, 2015
Coach Travis Green blows his whistle for what seems to be the 100th time today. After checking his watch and seeing that it is noon, he decides that practice is over. Inside an empty arena, after completing two one-hour sessions, players file off the ice one-by-one.
Most of the twenty-something faces on this season's team have sweat steadily flowing down their faces. At the entrance of their dressing room, piece by piece, gear begins to get pulled off. Just inches from the room's two wide-open doors, Blair Jones makes a U-turn. With less than a handful of days in Utica, members of the media want to get to know the "new guy".
Without his skates missing the mark, Jones stands center of the backdrop. At 29-years-old, Jones is the senior member of this season's Comets, both in age and professional experience. A couple print journalists and one TV crew are asking the questions. Listening to Jones speak, it's clear that he chooses his words wisely.
Jones declares to be all about the team. He prefers not to talk about who he has been mentored by and skated with in his past, which began with the Springfield Falcons in the 2006-07 season. They were the AHL affiliate of the Tampa Bay Lightning back then. Now, for his new teammates, for Jones, it's all about sharing his wealth of experience.
Having played in Utica two seasons ago, with the Abbotsford Heat, Jones thinks he knows what it's like on game night at The AUD.
"It's an exciting place to be for the home team. I look forward to being part of the fun," said Jones.
After satisfying the media's interests, polite and poignant, Jones makes the short walk across the hall to join his teammates. The one key take-away, albeit after just a quick introduction, is that Green and his staff are going to rely on more as the season progresses where Jones is considered – leadership.
Experience and character should fuse well with Jones' experience, in playing for 11 teams during his now tenth pro season, to make a key ingredient to this season's Comets.
Be it speaking before a camera taping his expectations for his first year as a Comet, or speaking to a live viewing audience on Periscope, Jones will be followed by his teammates, directly or indirectly. Be it his on-ice performances, how he carries himself away from the rink, or what is said or not said behind closed doors after a game, the importance of veteran leadership such as what Jones brings can't be understated.
This is a part of his role coming to Utica that Jones accepts, but isn't the type of athlete that is going to shout it out long or loud.
"I expect it. Players could lean on me. These are things you expect after playing in the league for 10 years," says Jones, selected by Tampa Bay in the 2005 NHL Entry Draft.
Having played in the east enough (last season Jones skated with the Lehigh Valley Phantoms), and the travel is easier than when he was with the Abbotsford, Jones feels that he has much to offer his new mates in Utica. It's the intangibles that most are counting on, even if they don't know it yet.
Insane, is how Jones recalls his touring time with the Heat. "I'm happy that I'll never have to go through that (travel) again. Here (in Utica), we'll get to stay in our beds much more."
Simple things like being home after a game make Jones smile. Coming from Canada's "Land of Wheat", Saskatchewan, this shouldn't be a surprise, but expected. Jones' story is as classic as they come – Canadian boy from a small (and I mean really small) town that beats the odds, and makes it to the NHL.
So far, the 132 times that Jones stepped onto NHL ice are a testament to his perseverance in reaching a dream. Two words sum up just why Jones isn't caught up in being a pro – Central Butte. This is where his hockey roots are planted. How much of a small town person is Jones? Let the stats do the talking.
Central Butte is located in south central Saskatchewan. With the latest Canadian census registered at 439 residents, Central Butte is less than one square mile in size, and has 240 dwellings. We're talking SMALL. Where do the roads from Jones' home town lead? Well, Moose Jaw is about an hour's drive. Same to Swift Current. And, it's a bit longer to Saskatoon and Regina.
From Central Butte, Jones also spent time as a child in Craik (SAS). Located on Provincial Highway 11, southeast of Saskatoon, Craik's population is slightly larger than Central Butte – by 14 residents – at 453. And the old railway town is just over one square mile. Jones' ascension from Springfield to now Utica, is nothing less than monumental.
Jones is an odds-beater.
Quality players like Jones are why the Vancouver Canucks flagged him for their organization. Signing a one-year, two-way contract as a free agent last July 3, is a win-win for both parties.
The adages are abundant, for what Jones brings to the Comets. "Walk softly, but carry a big (hockey) stick, "Lead by example", and others characterize the influence added to Utica's roster, by the addition of Jones. A glaring example of this didn't come from the 6'3″ 215lb. forward, when speaking to the Utica media for the first time.
Like with any athlete, the media wants to know who influenced him? What did you learn from who, to get where you are? Jones didn't bite and he could have.
When playing juniors in the WHL with the Red Deer Rebels, Jones had Stanley Cup winner Brent Sutter as his coach, and NHL star Dion Phaneuf as a teammate. As past coaches go, for Jones, names like Tortorella and Hartley pop up as well. Future Hall of Famer Jerome Iginla shared a Calgary Flames locker room with Jones.
Last season splitting duties with Lehigh Valley and their parent team – the Philadelphia Flyers, Jones could dish stories about being around superstars Giroux and Lecavalier – if he wanted. It's clear, this isn't going to happen.
Jones believes he played well in camp, and has proven that he can be an everyday NHL player. But, those who Jones believes have influenced his career with the most impact are his teammates; many names long forgotten and little-known.
"It's the guys that I have played with, who have worked hard in practice. It's the guys who always give their best effort. They understand what it takes to play at this level (AHL),"a relaxed Jones explains.
After a few minutes with Jones you have to wonder if he even remembers who he scored his first NHL goal against (Sean Burke) with Tampa, during a January 2007 game against Los Angeles? Jones isn't really about numbers. Offensively, they will come. It's when teammates rack his brain about an opponent, or technique, that's the added value of having Blair Jones in Utica.
Back to All