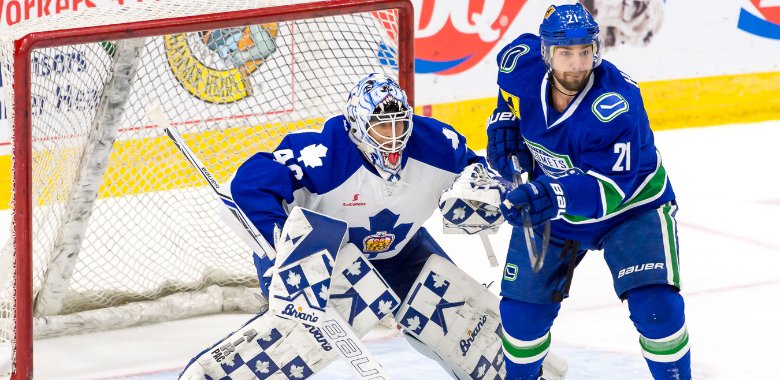 Comets Tales: Chris Higgins
by Don Laible
Jan 27, 2016
This past weekend Chris Higgins, a veteran left winger with more than 700 games played in the National Hockey League, joined his new Comets' teammates in Toronto. Having played the previous 10 full seasons in the best league on the planet, you could excuse Higgins if he was not used to riding a bus for five hours to get to an away game.
"Every great player has dealt with adversity," Higgins said. When you're having tough times, they are magnified playing in a Canadian market."
On Saturday, the Montreal Canadiens' former top draft pick (14th overall) in the 2002 NHL Draft, found his skates hitting ice in the American Hockey League for the first time since the 2004-05 season. That season, with the Hamilton Bulldogs, he collected 51 points in 76 games, which served as third most on the team.
In an unusual move, the Canucks organization informed the entire hockey world that Higgins was available via a press release on Jan. 10.
Up to that point Higgins has dressed in just 25 of the Canucks' first 43 games this season. In those games Higgins was able to muster up three points (2-1-3). In three of the four years prior to this season, Higgins hit the 30 point mark including a 43 point season back in 2011-12. This season, however, it appeared he had lost something.
"It's hard to find your game, if you're not playing," noted Comets' coach Travis Green.
After a full week of practices, two road games, a chance to build new relationships in Utica, and far away from the scrutiny of the Canadian media markets, Higgins will have every opportunity to find his game again.
On Jan. 16, while driving to Utica from his hometown on Long Island, Higgins had much to think about. What would his Utica experience be like? Will he ever see another sheet of NHL ice?
After a practice with his new teammates, Higgins shared how he grew up loving the game that grew into a career. The more Higgins speaks of his NHL career stops - (Montreal, New York Rangers, Calgary, and Florida) – the clearer it becomes that he has chosen the correct profession for himself. The enthusiasm that he has that dates back to his childhood on Long Island, further cements and confirms his love of hockey.
Street hockey with friends is where Higgins says he first fell in love with hockey. Although the New York Islanders were playing 30 miles west of his hometown of Smithtown, Higgins was all in for the Canadiens. But, there is an Islanders twist to Higgins and his street hockey friends.
"I was playing with some of the Islanders players' kids," recalled Higgins. "Bobby Nystrom and Gerry Hart's sons (Eric & Jordan) were in the bunch. They were my age, and their dads would coach us."
Eric Nystrom, currently with the Nashville Predators, is from Syosset; on the Island. Jordan Hart, who skated in the UHL, ECHL, and AHL, currently lives in Huntington; also on the Island. Remaining close friends after more than two decades, Higgins is eager to tell that they all see each other in the off-season.
Going from playing in the streets of Long Island, to prep school, to two seasons playing for the Yale Bulldogs (2001-03), Higgins steadily progressed in hockey.
"I had the time of my life there (Yale). Coach (Tim Taylor) believed in me," said Higgins, currently sitting on 332 career NHL points.
"When I was a sophomore in high school, he (Tim Taylor) would meet me after my games, and we would talk about how I played. He was an older guy, who was constantly trying to learn new ideas," said Higgins.
When playing street hockey on the Island and when not pretending to be his idol Patrick Roy, he would pretend to be Kirk Mueller, who was another star player for the Canadiens at the time. Once Higgins reached Montreal as a full-timer, Mueller was an assistant coach.
"That was weird," Higgins recalled with a laugh. "After I played in the league for a couple years, that eased the tension I had being around these guys."
Six days after first hitting the ice with his new Comets teammates, the Smithtown, NY native was back across the border doing what he knows best. A sense of stability has returned for Higgins, where he can now concentrate on playing hockey. Knowing that you will be in the line-up can have that effect on an athlete.
In his first game as a Comet on Saturday, Higgins picked up an assist on Jordan Subban's third period goal.
Higgins promises to have family members at Saturday's game against Rochester at The AUD. As they drive up from the Island, they too surely will remember how their loved one was introduced to hockey.
Whether the NHL is finished or not with him, it's abundantly clear in hearing him tell his own story, Higgins isn't ready to throw in the proverbial towel just yet. A true pro's pro, Higgins has displayed a positive attitude during a time where you could not blame him if he didn't.
Before turning and heading back to a room full of new faces and names to continue to learn, Higgins is blunt - "This year hasn't been fun, but it's getting better."
Back to All