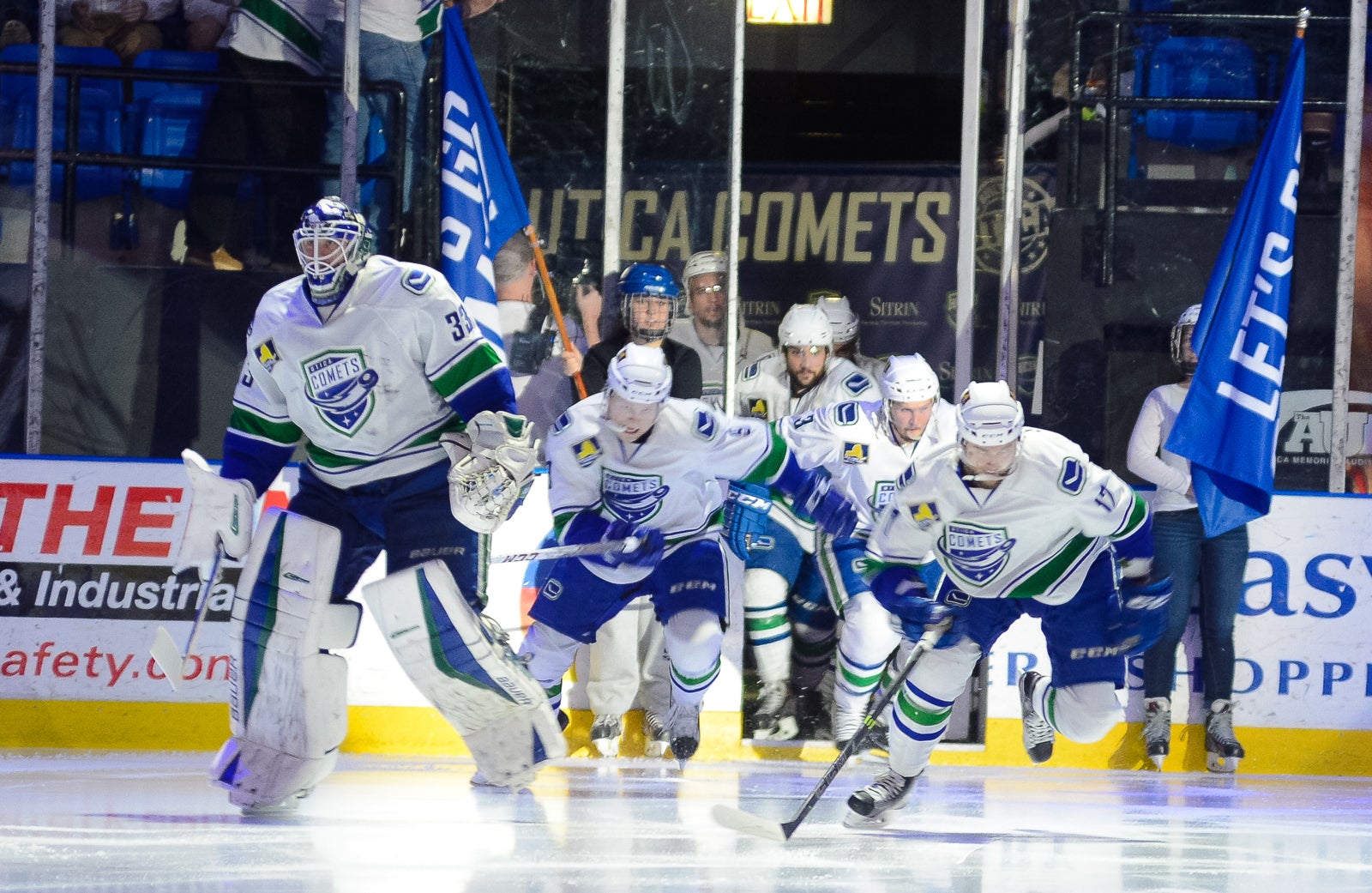 Comets Tales: Comets Faceoff is a Hit
by Don Laible
Nov 12, 2015
Face Off, the weekly Utica Comets 30-minute program on WPNY TV, is now "Must See" TV that airs every Thursday at 7pm.
After just a few episodes viewing Comets Face-Off has quickly become a weekly routine for hockey fans in the Mohawk Valley
"Oh my gosh. I watched the first three (episodes)," says Frank Dragotto of Ilion. "I like that they ask interesting questions – things that most fans want to know. I also like that the show has players on it, and that we get to hear directly from them."
The popularity of Comets hockey continues to be heard by area media outlets. Nexstar Broadcasting, operators of WPNY (MyNetwork TV affiliate) in Utica, launched the one-of-a-kind show last month. For the first time in Utica, given the city's rich tradition of pro hockey, a half-hour of up-to-date news and comments from in-studio guests can be seen.
Eyewitness News team's (WUTR TV / WPNY sister station) Sport's Director, Austin Fontanella, and Comets' Director of Communications, Mark Caswell, Jr., are the hosts of Comets Face-Off.
For an inside look at how the program is packaged, right up until hockey fans gather at their favorite places to catch up on the latest all things Comets, we caught up with Fontanella for answers.
"On Thursdays, we're ready to go to tape by 3:30pm," says Fontanella, who arrived in the Mohawk Valley in October 2014.
During a recent telephone conversation, Fontanella explains how the show's origin came to be.
He tells of being approached by Eyewitness News Director Tom Coyne, with THE question, "Hey, Austin – Are you interested in doing a Comets show?"
From that conversation, and a resounding yes by Fontanella, Face Off was given the green light.
Listening to Fontanella go over the schedule leading up to Thursday's airing, it is clear that it is a total team effort between both he and Caswell. Beyond looking into the studio cameras, communication all week is key in order to deliver a polished finished product.
Beginning on Monday, Fontanella and Caswell will meet to discuss key points they may want to touch on for the upcoming program. They also discuss which player they would like to invite to be on the show. Performances delivered in the previous week's games, interesting pasts, and players affected by big decisions are where the duo look to make sure fans get the best story. Fresh off the decision to name a captain, Comets' Head Coach Travis Green and team captain Alex Biega shared the studio set with Fontanella and Caswell for the first episode.
By Wednesday night, with a guest confirmed, script complete, and passed on to Caswell, Face-Off is ready for viewers.
"The script has to go to Syracuse (Nextstar affiliate), so it can be typed and ready for closed-caption viewers,"Fontanella said.
During the week, in preparation of editing Face-Off, Fontanella will look for "a little more" video of recent Comets games.
"I love what I've seen (Comets hockey), since I started following the team closely last year," says Fontanella, a graduate of Boston-based Emerson College.
An admitted "baseball guy", Fontanella has enjoyed learning not only about the Comets and what they mean to the region, but about pro hockey's prominence in past years here as well.
"Tom (Coyne) will help me, pointing out what I may have missed; the smaller points of the game that I'm still learning,"Fontanella tells.
Selecting guests basically boils down to who are playing well for the Comets. Scoring a hat trick, or who is hot in goal – hence, Hunter Shinkaruk and Joe Cannata's recent appearances, are a barometer on what member of the team will drive up Smith Hill in Deerfield, and appear before the cameras.
"I'm thrilled to get to do the show," says Fontanella, originally from Pelham, NH. "The passion the people here have for their team is amazing."
With each program completed, Fontanella asks himself, "What could we do better?"
Making sure videos match to the script, getting the technical parts down, enabling the program to flow without any "hiccups" keeps Fontanella focused on Face-Off.
Utica hockey fans are a tough audience. They know their hockey. Thus, according to Fontanella, a less structured, free form format allows the program to go where it takes it.
"Our audience is knowledgeable." Fontanella explained. "They know the ins and outs of their team. There's no sugar coating in what we do."
Comets Face-Off airs on WPNY every Thursday evening at 5pm. WPNY can be found on Time Warner (channel 12), and DirectTV (channel 21).
Back to All