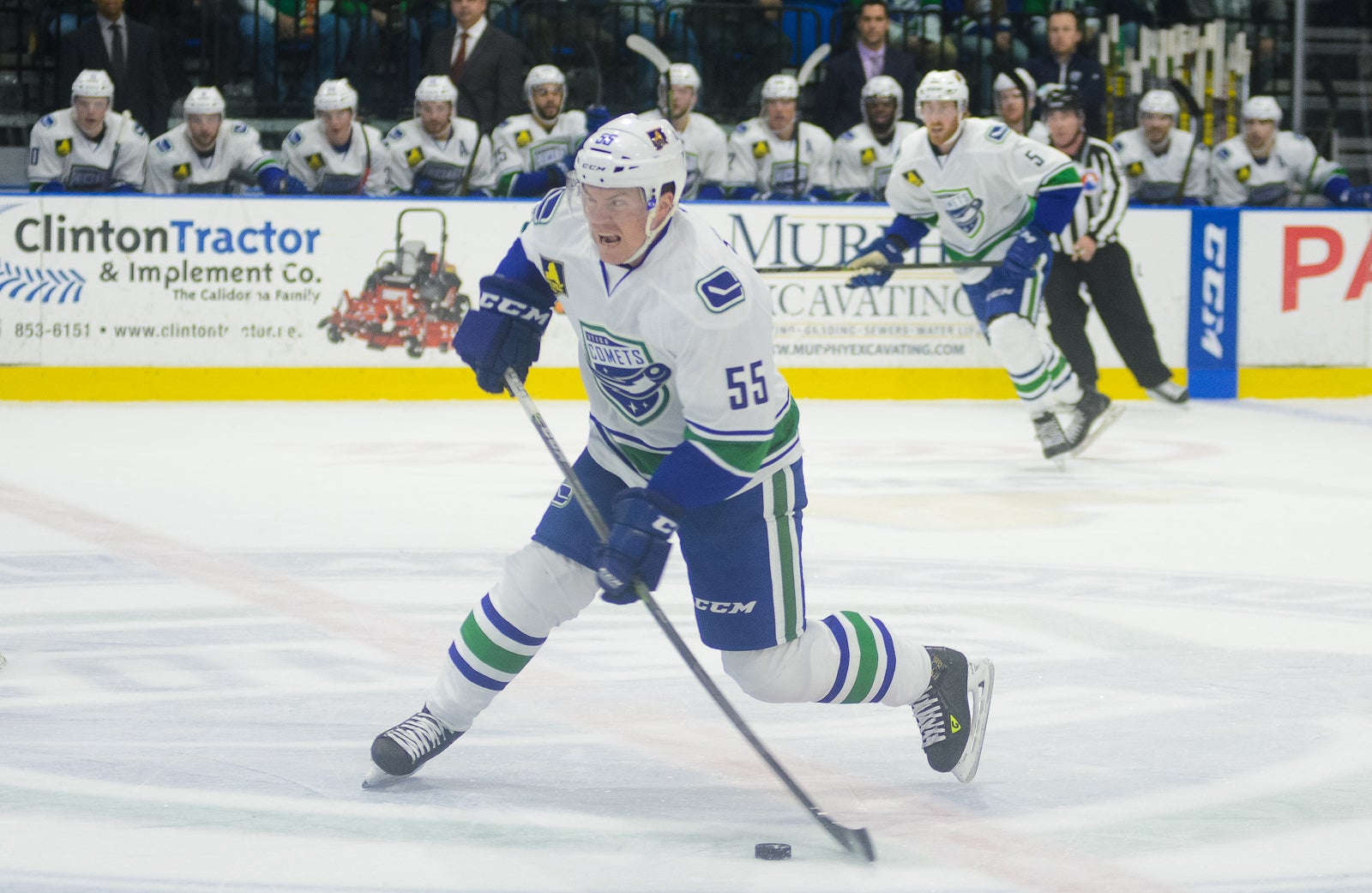 Comets Tales: Danny Syvret
by Don Laible
Dec 29, 2015
Take a look at Danny Syvret's hockeydb page and you will see that his ability to compete at hockey's highest level has never been in question. Up until December 18, the defenseman with 59 NHL games and 638 AHL games under his belt, was out of hockey.
Christmas came early this year for Syvret.
One week earlier Syvret received the best gift of all – an opportunity to keep playing hockey. Since the end of last season's AHL schedule, one in which he split between Iowa and Wilkes-Barre/Scranton, Syvret waited (and waited) for a call from his agent.
His resume shows he has played 11 professional seasons, and has spent time with 14 different teams (AHL and NHL). In 2009 he was selected to play in the AHL All-Star Classic in Worcester, MA, and scored his first NHL goal on the game's grandest stage – the Winter Classic at Boston's Fenway Park. In his career he averages more than half a point per game from the blue line.
Yet, with all these impressive accolades, the 30-year old started the season waiting for his next opportunity.
"I didn't expect it to be this long," Syvret confided. "Since early September I've been practicing with the OHL London Knights as an eighth defenseman. I've stayed in good shape, and kept up with the pace of play."
So, on December 18, when the headline of a Utica press release read – COMETS ADD AHL-STAR DEFENSEMAN – the long wait was officially over for Syvret. There was no time for gradual integration. On the road immediately, and on a bus headed for Springfield, MA, Syvret saw extended ice time during his first weekend on the job. First in Springfield, followed at home opposite Hartford, Syvret's sticks and skates were heavily worked out.
"I began speaking with business owners in town (London,Ontario); feeling offers," said Syvret, when asked how he found his way to Utica. "There was interest from teams in Europe and Switzerland. My agent over there is friends with Travis (Green), so things worked out."
Even with the experience of skating in three different Calder Cup playoffs, Syvret finds himself in a position of needing to prove to yet another organization that he can be a valuable asset. NHL call-ups aside, Syvret hasn't played in the same city in consecutive seasons throughout his career. A nickname of "suitcase" wouldn't be out of the question.
Having only played with John Kurtz back in the 2010-11 season with the Syracuse Crunch, and knowing only Brendan Burke from his time in Peoria, Syvret arrived to the Comets in relative anonymity. However, Syvret's ice time has had an immediate impact on his new team's performance.
In his four games as a Comet, Syvret has amassed four points, two of which have come via lighting the lamp. Describing the Comets as "an annoying team to play against", Syvret has liked what he has experienced in Utica so far.
"The practices are intense," said Syvret. "This team is resilient and hardworking".
As Syvret stood before cameras and microphones after the Comets' home contest with Hartford, a sense of relief, appreciation, and eagerness were apparent. He tells of how it could be tough joining a team a quarter of the way through the schedule and assimilating into a dressing room of new faces.
Four games into being a Comet and Syrvet has already concluded that his new teammates are a "pretty good playoff team."
Back to All