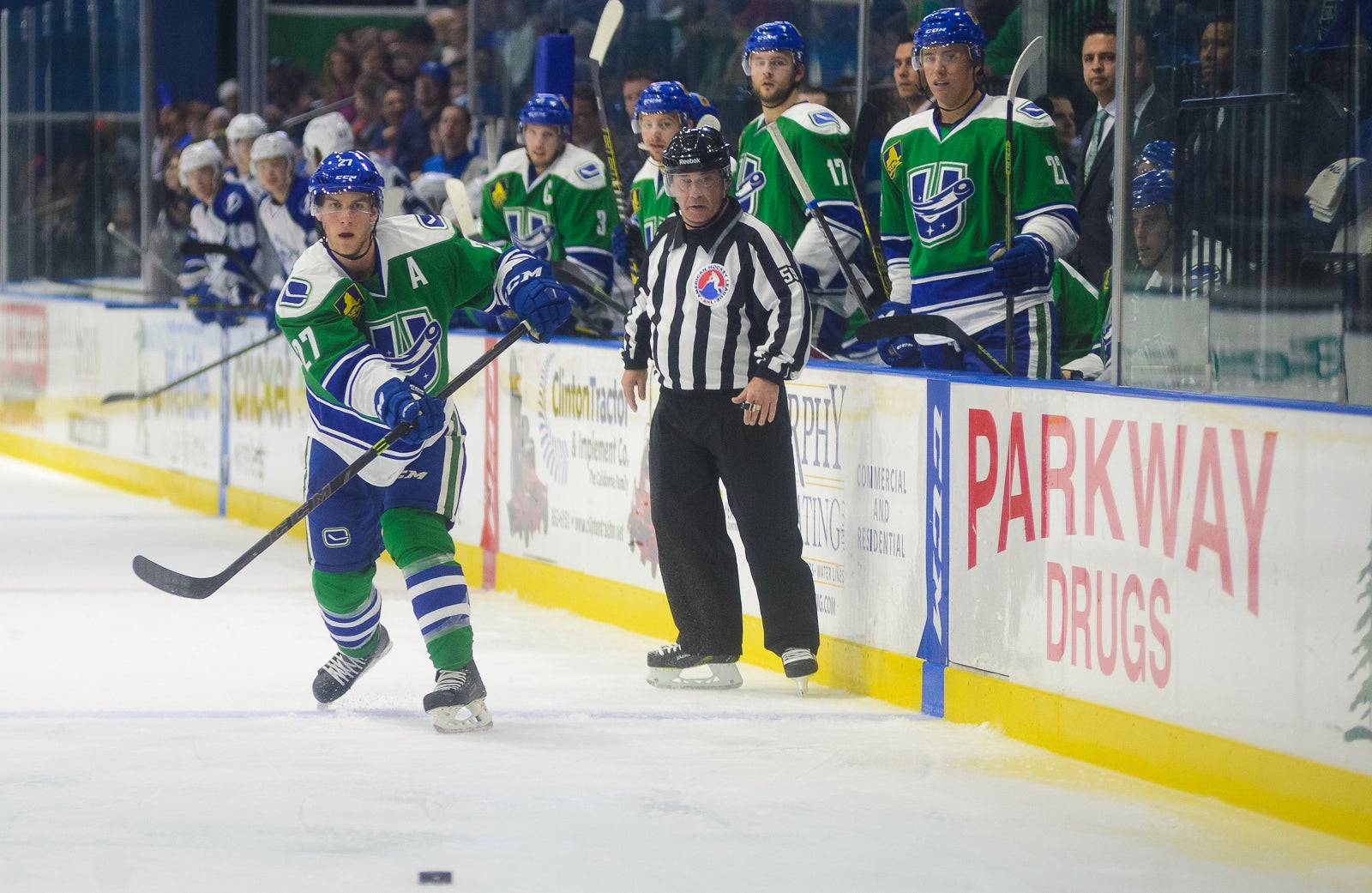 Comets Tales: Fedun's Path to Utica
by Don Laible
Nov 11, 2015
Utica Comets defenseman Taylor Fedun is one smart guy. And not just because he decided to sign with the Vancouver Canucks this past off-season.
Let's start with the degree. Fedun, a member of Princeton University's Class of 2011, earned a bachelor's degree in mechanical engineering. Getting from his hometown of Edmonton, AB to the famous Southern New Jersey campus for the 2007-08 season involved a few twists.
More than 2,400 miles sit between the aforementioned cities. For Fedun, the distance seemed much small seemed a bit since Princeton had some hometown flavor for the defenseman.
"It is a funny story," chuckled Fedun. "The head coach (at the time) at Princeton (Guy Gadowsky) was from Edmonton. His parents live in Edmonton. His dad does some scouting for the team. It was his recommendation to his son that got things rolling."
It was the hockey skills that allowed Fedun to play at the Division 1 level, and get noticed by the Tigers coaching staff. But it was the grades that kept him at the fourth-oldest college in the United States.
"They (Princeton) reach far out (for players). But you must have the grades,"says Fedun, who has 11 NHL games played to his credit.
And once again, in his eventual selection to the historical New Jersey-based educational institution, Fedun had more than luck working on his favor.
Six degrees of separation, the theory that everyone and everything is six or fewer steps away, by way of introduction from any other person – held true for Fedun. Not only was Princeton's head coach from his hometown, but so would be one of Fedun's future Tigers teammates – Cam Ritchie.
"He (Ritchie) talked me into it (mechanical engineering)," says Fedun, of his high school classmate. "It was a lot of work. But, I studied things that I enjoyed."
Steering his life through four years of college hockey, as opposed to selecting the more well-traveled juniors road, is one that Fedun still believes was best for him. He talks of making good time in maturing as a person and an athlete while at Princeton.
Mentally and physically, Fedun does not hesitate in saying that at age 22 or 23 that he was far more ready to be a professional athlete than if he had gone the junior route.
"I was a long way from being on my own," explained Fedun, who has five points in the Comets first 11 games this season.
Although undrafted, Fedun's play at Princeton didn't go unnoticed by NHL scouts. Perhaps it is his durability and accountability that caught the attention of an Oilers scout.
"It was during my senior year that I began to realize that there might be (NHL) interest," said Fedun, while sipping on an energy drink at The AUD after a 5-1 Comets win over Providence.
Fedun's first professional contract came when his hometown team, the Edmonton Oilers, signed him. An experience he coyly admitted to being an "out of body experience." Calling his two-year run in the Edmonton system "cool" for family and friends, Fedun shares his 11-game stint in the National Hockey League with a wink and a nod.
During the 2013-14 season, Fedun saw his hockey dreams come true when he was called-up to the Oilers for the first time. He experienced four games of service, however, none were home games. Last season with San Jose, Fedun suited up for seven contests with the Sharks. Ironically enough, one of those matches involved meeting the Oilers…in Edmonton. Finally, friends and family were able to see their son on NHL ice. In his home town.
In shifting cities and seasons, Fedun is asked – "Why Utica?" During free agency this summer, Fedun had options available.
"It was a good opportunity for me, joining Vancouver and Utica. I would get to play a big role with the team," said Fedun.
At 27-years-old, Fedun is the third "oldest" Comets player, behind Blair Jones and Alex Biega. Perhaps it is both his experience and character that saw coach Travis Green award him an "A" on his uniform earlier this season. As a leader, Fedun described himself more of a quiet, "Watch what I do", than loud, rah-rah speech giver.
Want to see Fedun smile? Ask the defenseman about his first, and only, visit to The AUD prior to this season as a member of the Oklahoma City Barons on March 5, 2014.
"It was a Wednesday night. We (Barons) were used to mid-week games," recalled Fedun. "As we were walking past the Irish Pub on our way to the ice for warm-ups it was already loud. We were thinking, 'what are we getting ourselves into here?'"
In his then second year in the AHL, the boisterous and faithfulness attached to the Comets and their fans may have seemed foreign to Fedun. That connection remained tucked away in the Edmonton native's mind, and reappeared when he selected Vancouver's offer last summer.
Fedun tells of having followed the Comets during their run to the Calder Cup last season. Just as he was conditioned to do as a student at Princeton, Fedun's decision to join the Vancouver/Utica organization was surely well thought out.
Back to All