COMETS TALES - GUEST SERVICE REPRESENTATIVES
Feb 13, 2018
To your grandparents or parents they were known as ushers. For today's generation who attend events at Adirondack Bank Center at the Utica Memorial Auditorium, their ID tags say - Guest Services Representative. To all, they are simply - event ambassadors.
During the American Hockey League season, St. Johnsville native Jim Carroll stands at his post by 5:00 p.m., for all 38 regular season Utica Comets' home games. A few feet away from the back door, and yards from parked Zambonis, anyone coming or going from the area without proper credentials are Carroll's business.
Five years ago, Carroll heard that there were openings for GSRs, thought it would be fun to give the role a try.
"I have fun. The best part, it's the people I work with. I'm usually here until the place empty's out," Carroll tells, as he is interrupted several times to answer calls on his two-way radio.
Upstairs from Carroll's post on ice-level, at a sign reading Section 205, just left to the blue line, 32-year GSR veteran Jeff Jones is ready to serve fans. Dressed in the familiar black sport coat, matching pants, and white shirt, Jones is prepared to be an "answer man".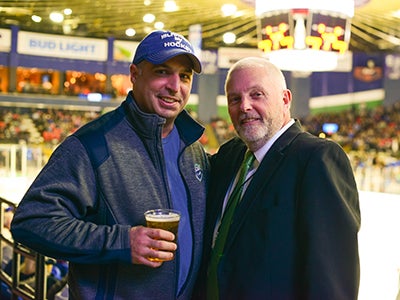 Like a majority of his fellow GSR teammates, Jones, a Utica native, was first a customer; a fan attending hockey games, then gradually received his "calling."

"I had a friend working (as an usher), and he said you're coming to the games anyway - give it a try," says Jones, one of 12 kids in his family. "I've been at this gate meeting people since the Mohawk Valley Comets' days. I work all the events, but the hockey atmosphere is fantastic."
Whereas Jones and his teammates stand at each gate, readied to answer questions, from where specific seats are located to which direction are the restrooms, there are two individuals responsible for the overall performances of the GSR team.
Comets' Executive Administrator Luann Horton-Murad is the glue that keeps the GSRs together. With a roster of 60 names, Horton-Murad tells of a rotation that on any given event night there could be 35 names called to work.

"People come in, fill out an application, and we add them to our list," explains Horton-Murad.

The longest link currently, from when GSRs were labeled ushers and the building was simply the Utica Memorial Auditorium, dates back to when the Mohawk Valley Stars were operational in the 1980's.

Stan Sambor.

It was Horton-Murad who hired Sambor.
On a recent Friday evening, at 5:30 p.m., Sambor uses his electronic scanner to validate two tickets. From the time the doors on Oriskany Street, West open, to halfway through the opening period of play, Comets' fans file in, and Sambor stands by the turnstiles.
From the days of just tearing tickets in half, and moving fans along without having to lift his head, today like his GSR teammates, Sambor has a few tools of the trade to utilize. An ear piece is visible on his right side, for Sambor to have continuous contact with with a variety of people.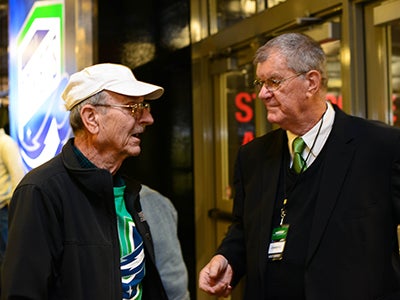 Maneuvering through metal detectors, first, fans hurry in often from harsh weather. Along with raising their hands in the air while going through the detectors, there are security hand wands, also at the ready. Through the patience of the Comets' faithful coming for a night's entertainment, Sambor greets all with a welcoming smile.
"Gosh. 34 or 35 years. I go way back. It was the '82-'83 season when I began," Sanbor recalls. "I was looking for a part-time job, after retiring from UNIVAC and Xerox."

Sambor sees many of the same faces at each Comets' games come through his position, and is quick to label them very sociable. While there is much repetition to what his position requires, for Sambor, there are no complaints.

Sambor, 77, estimates that he clocks in for five hours at each Comets' home game. His wife Mary, of 52 years, used to accompany her husband when the Utica Devils were operational. Getting out of the house, and keeping busy, remains a perfect fit for Sambor and his teammates.

Putting a game-night roster of GSRs together falls in the hands of Jeff Lloyd.

For the past quarter-century, Lloyd, like Sambor, is a staple of consistency in creating a fan-friendly environment at ADK Bank Center. Beginning during the Devils' days pouring beer, Lloyd checked in at every event when the lights went on.

The men and women you see offering direction to fans, the nightly line-ups begin to take shape on Mondays. Lloyd will make calls for Wednesday through Saturday events. He schedules GSRs always for a week ahead.

As the supervisor, Lloyd "loves every minute" of his role, and attachment to Utica's historic arena. "From youth hockey to the AHL, concerts, whatever, I always want people to leave here having a good time," Lloyd said. "You want the fans to come back."

Although they don't have their own dressing room, it's easy to locate where the GSRs set up a temporary home. In the lower bowl, to the left of the Arena Operations office, there are several coat racks. Black jackets, green ties, and a spare shirt or two lay still on hangers. On game night, they are traded for winter coats, for a couple hours at a time.
And over at Gate One, is GSR Doug Seiselmyer. For the past decade the Clinton native has been directing fans, and having a blast meeting new people. After retiring from the U.S. Postal Service, Seiselmyer wanted to keep busy, and thought it would be fun to be part of a "very special place".
"I really enjoyed the All-Star event. The mascots were great, too. This is one big family (GSR). People come to your line to see you. Everyone gets to know each others' names after awhile," states Seiselmyer.
There are no numbers assigned to GSRs similar to the Comets, but each plays a vital role, as a team, to ensure a disrupted-free, memorable night out at ADK Bank Center in Utica.
Written by - Don Laible
Back to All