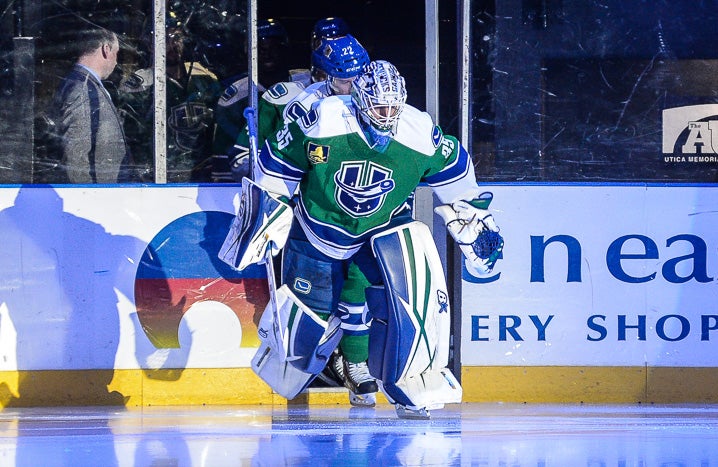 Comets Tales: Joe Cannata
by Don Laible
Oct 26, 2015
The numbers don't lie. Joe Cannata has his 'A' game going.
Through the first five games of this AHL season, Cannata has been a busy man. With 300 minutes in goal, and 118 pucks shot at him, only eight have found their way into the net. Throw in a .932 save percentage, a 1.42 goals against average, and his first American Hockey League shut out on Saturday, and it's safe to say Joe is on top of his game.
More numbers pop out on the progression of Cannata as Utica's leader in the crease. During a stretch of seven days, from Saturday October 17 in Hartford to Saturday October 24 at The AUD facing the Crunch, Cannata, statistically, grew stronger.
In three games played last week the Wakefield, MA native allowed just three goals, one that arguably should have been waived off. That goal was the only goal scored Friday night against Hershey.
To further fuel a conversation that Cannata is in a groove, the next night he one-upped himself in pitching a 30-save shutout at the expense of now eastern conference rival Syracuse.
Reporters have the luxury of combing through seemingly endless amounts of data to quantify their theories and summations of positions taken. Before each Comets game, a packet of notes are distributed, allowing those covering the contest more than 25 pages (both sides) of every possible movement made by every player participating in the game.
However, even after appreciating the analysis offered, there's the human element that shapes opinions.
New flash – Joe Cannata appears to be settling in, knowing he is the starter and the Comets go-to guy in the net. Getting to where he is today shouldn't surprise those who are familiar with Cannata's past.
Right time, right place, this is how it appears Cannata's success has been fueled. The goalie situation is not as clogged as it has been the past two years in Utica. Gone is Joacim Eriksson (to Riga Dynamo of the Russian-based KHL). Gone is Jacob Markstrom (backing-up Ryan Miller in Vancouver). Ticketed for Utica, but not yet arrived is Richard Bachman (backing-up Miller, as Markstrom recovers from injury).
As of now, and going forward, the starting role for Cannata as Utica's guardian in-between the pipes is his to grow with. The road traveled to The AUD for Cannata hasn't been done on a straight and narrow highway; more like driving an ATV on back roads.
Remember Cannata last season? Five games in Travis Green's line-up, that was it. A numbers game with goalies ushered the Wakefield native to Southern California, and the ECHL's Ontario Reign.
All Joe Cannata did was accept the move, and thrive. Posting a 12-6-2 record, along with a .927 save percentage, Cannata allowed two goals or less in seven games. He represented the Reign in the league's all-star game and stopped 15 of 16 shots during his twenty minutes of work for the eventual winners.
Playing before sold out crowds in Utica doesn't appear to add any additional pressures to Cannata's game. Hockey, and sports in general, is what makes Cannata tick.
"I always enjoyed playing all sports," Cannata says. "My parents took me to learn to skate. I stuck with it, and started playing hockey as much as I wanted to."
The rise of Joe Cannata's performance level pretty much has gone through convention channels – high school, college, to beginning his professional days in 2012, with one game in net for the AHL Chicago Wolves (then Vancouver's affiliate).
Boston College High School, an all-male Jesuit Roman Catholic prep school in Dorchester, 20 miles from Wakefield, is where Cannata's stopping pucks began getting notice from scouts. While at BCHS, Cannata ran up an incredible 16-1-1 record. After his junior year, the next step on the road that would lead to Utica began.
"I was asked to join the team. They needed a goalie," said Cannata, prior to the Comets home-opener.
That team is the USNTDP Under-18 (United States National Team Development Program). During the 2007-08 season, based in Ann Arbor,MI, Cannata saw ice time in five games. Many of his teammates have either seen game action on the NHL level, or are currently on AHL rosters. Kyle Palmieri, Ryan Bourque, Jeremy Morin, Danny Kristo, and Drew Shore are a sampling of who Cannata grew as a young man with, on and off the ice.
Given team locations and travel requirements, Cannata tells of not being able to keep in touch with his former teammates, perhaps as much as he would want.
"It's hard. We're friendly, but everyone moves on," states the Canucks' 2009 draft selection. "I grew up playing against Ryan (Bourque). I know his dad (Raymond Bourque) and his brother (Chris Bourque)."
Taking the lessons learned with the USNTDP program, traveling the country and playing against top tier competition, Cannata's next step in his hockey process brought him back home – sort of.
Cannata shortened his commute for college hockey, from 20 miles to Boston College High, to just 12 miles – from Wakefield to North Andover, MA. Hello, Merrimack College.
With the campus located south of the Merrimack River, Cannata played his four years of Hockey East (122 games) in a city roughly the same size of Wakefield. For those who may have hesitations that Cannata, having been in the line-up for all of the Comets games thus far, may be in need of a rest, it's clear that he was a workhorse in college.
59 collegiate wins are what impressed the Canucks enough to bring Cannata into their fold.
"Playing four years (at Merrimack) was the best script for me," says Cannata. "My mom was on me to get my degree. I grew up watching Boston College and Boston University, idolizing those guys. Getting to play some of those teams was great."
The ups and downs of being moved from one city to another, often with little or no warning, could shake the confidence of an athlete. For Joe Cannata, he has found a way to roll with that of which he has no control over. Last season in California, aside from finding out just how much traffic there is in the Los Angeles area, Cannata enjoyed his time spent with the Reign.
No longer is he the goalie on standby or packing his bags for destination to be decided, Joe Cannata IS THE guy in net for the Comets – for now. Making the most of his leadership role, blocking shots is his remedy to continued success at The AUD – and beyond.
Back to All