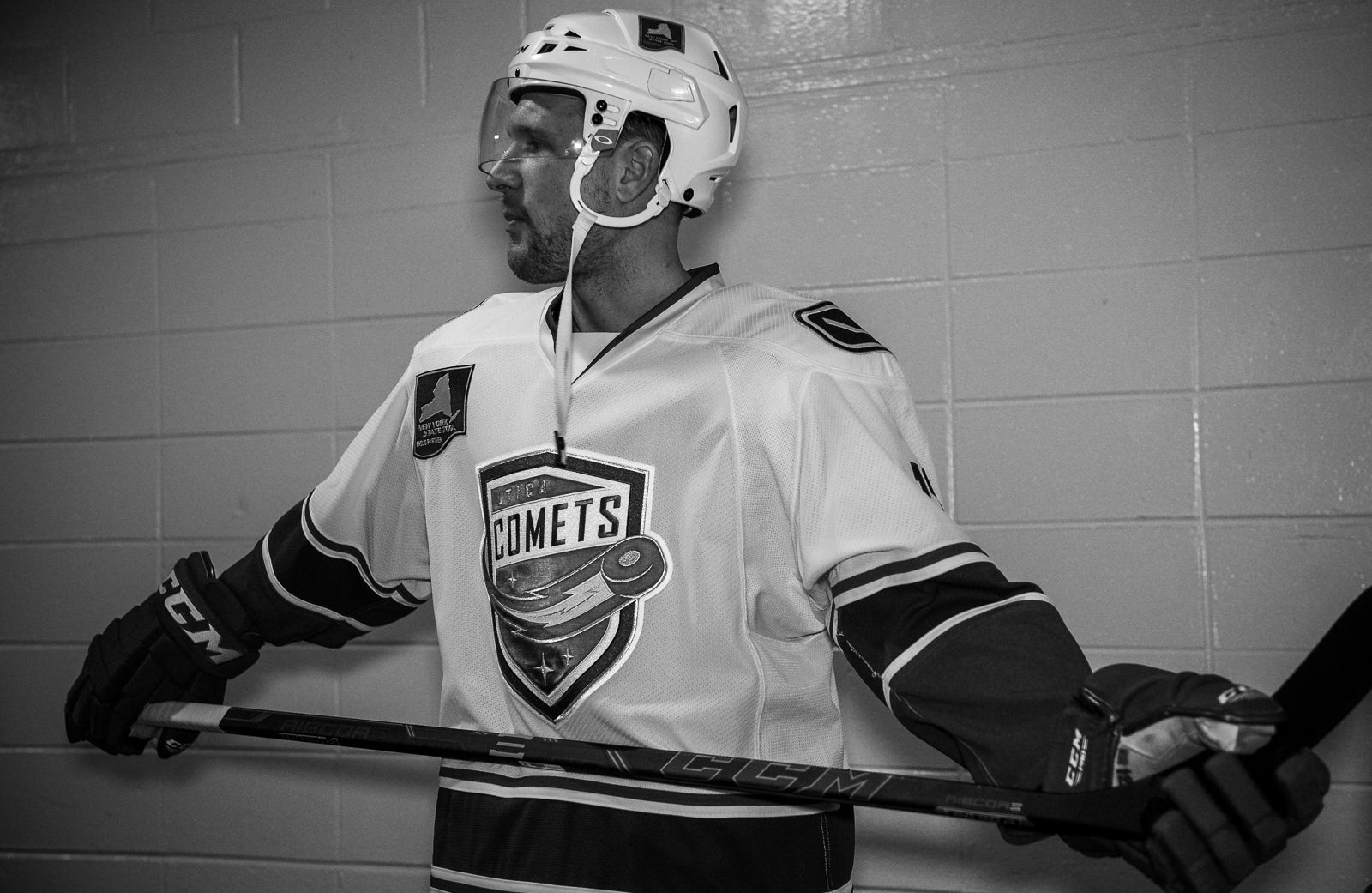 Comets Tales: John Kurtz
by Don Laible
Dec 28, 2015
There is no faulting John Kurtz if he's watching the Comets' schedule more than most of his teammates. If anything, it should be expected of the veteran forward.
Although Kurtz is signed to his second PTO (professional tryout) contract, which is good for up to 25 games to prove whether a team sees you in their future plans or not, it can be argued that he is an outlier. Part of the Comets, yes. For how long? Only coaches, scouts, and additional hockey ops people can make that determination. Singing the elusive AHL contract, the next best move professionally for Kurtz, is the goal.
"It's difficult to be in limbo land," said Kurtz. "I was with the same team for five years. I was very comfortable there (Anaheim organization). Players build relationships."
Prior to accepting the Vancouver Canucks' invite to training camp this past September, Kurtz skated in 271 AHL games – all in the Ducks' system. The past three seasons, with the Norfolk Admirals, Kurtz performed as a reliable and productive left winger.
Averaging 67 games playedand amassing an eye-popping 403 penalty minutes, Kurtz was a presence on the ice. John's first two seasons as a pro were spent with the Syracuse Crunch.
The ECHL is not a league a player with NHL hopes wants to find himself in, but that is where Kurtz found himself a couple times during the 2011-12, and 2012-13 season, with the Elmira Jackals. However, Kurtz literally and figuratively fought his way back to the American Hockey League.
Fighting, waiting, and wondering what's next for him, and the years he has invested as a player without getting to the NHL, keeps Kurtz in deep (positive) thought.
"I didn't get the PTO this year until early September," Kurtz said. "I was a free agent as of July 1. It was some tough, uncomfortable months for me."
Kurtz tells of his signing with Vancouver, of not knowing a "single player in camp". Although with the uncertainty of being released, at any time, before or after any game from the Comets, Kurtz prepares as if he's going to be a Utica resident until spring.
"I show up to work every day, just as I did during training camp, working hard. But, it's tough mentally," explained Kurtz.
This past summer, after five consecutive off-seasons of relative comfort, knowing where he would be attending camp and with who, Kurtz did his best not to think about his predicament of the unknown.
"You have to show up, train hard, get big, strong, fast – and have no change in motivation," stated the 26 year old forward.
Since his start in juniors with the OHL Windsor Spitfires in 2006, Kurtz has logged a decade of continual prepping and grooming himself for the NHL. Even at that period of his career, Kurtz proved that he can be offensively dangerous. In 2008, John tallied 54 points for a Sudbury Wolves' team that included Marcus Foligno and Jared Staal.
Kurtz is making every day in Utica count. He wants to be able to look back at his career someday and say, "I was glad to get a chance to play in the NHL." John Kurtz wants to have NHL duty, preferably with the Canucks.
Perhaps Kurtz's next skate forward to being closer to the NHL will indeed begin with the Comets. He'll tell you being in Utica, and in the Comets' system appeals to him.
"Being away with the team in France was an exciting opportunity," recalled Kurtz. "That was the first time I ever visited Europe. I got to know the guys real quick. The trip sped up the get-to-know-you process. Alex Friesen was our tour guide. We (teammates) took in old churches and architecture."
Kurtz's years of experience on the pro level are aiding his time in watching games from the seats. Making the opening night roster is described by Kurtz as both a relief and exciting. With no playoff appearance last spring by Norfolk, Kurtz experienced an unusually longer summer.
Kurtz confides that he'd be lying if he said being scratched is anything but difficult. With the Admirals, there were steady shifts. With the lack of ice time with the Comets, Kurtz admits to his career temporarily stalling.
"I've stepped back. You can't take this game for granted. I'll keep taking advantage of the weight room," said Kurtz.
Beyond addressing the obvious, "what happened, and or why" questions, Kurtz is doing his best to acclimate himself to Utica when he is away from the ice. Taking in local restaurants and sights has become a habit of Kurtz's.
Observant of the tailgating that goes on in The AUD's parking lots on game day, Kurtz rates the Comets' crowds at a higher level than what he experienced in Syracuse's OnCenter, or anywhere in the AHL.
"You definitely hear the fans here, it's always wild – I love it."
As an unrestricted free agent turned PTO skater, hockey's double-edged sword points to John Kurtz. Freedom meets risk, uncertainty, and hope in here in Utica. Hope that his play in Utica, NY becomes the catalyst that propels him to his ultimate goal, the NHL.
Back to All