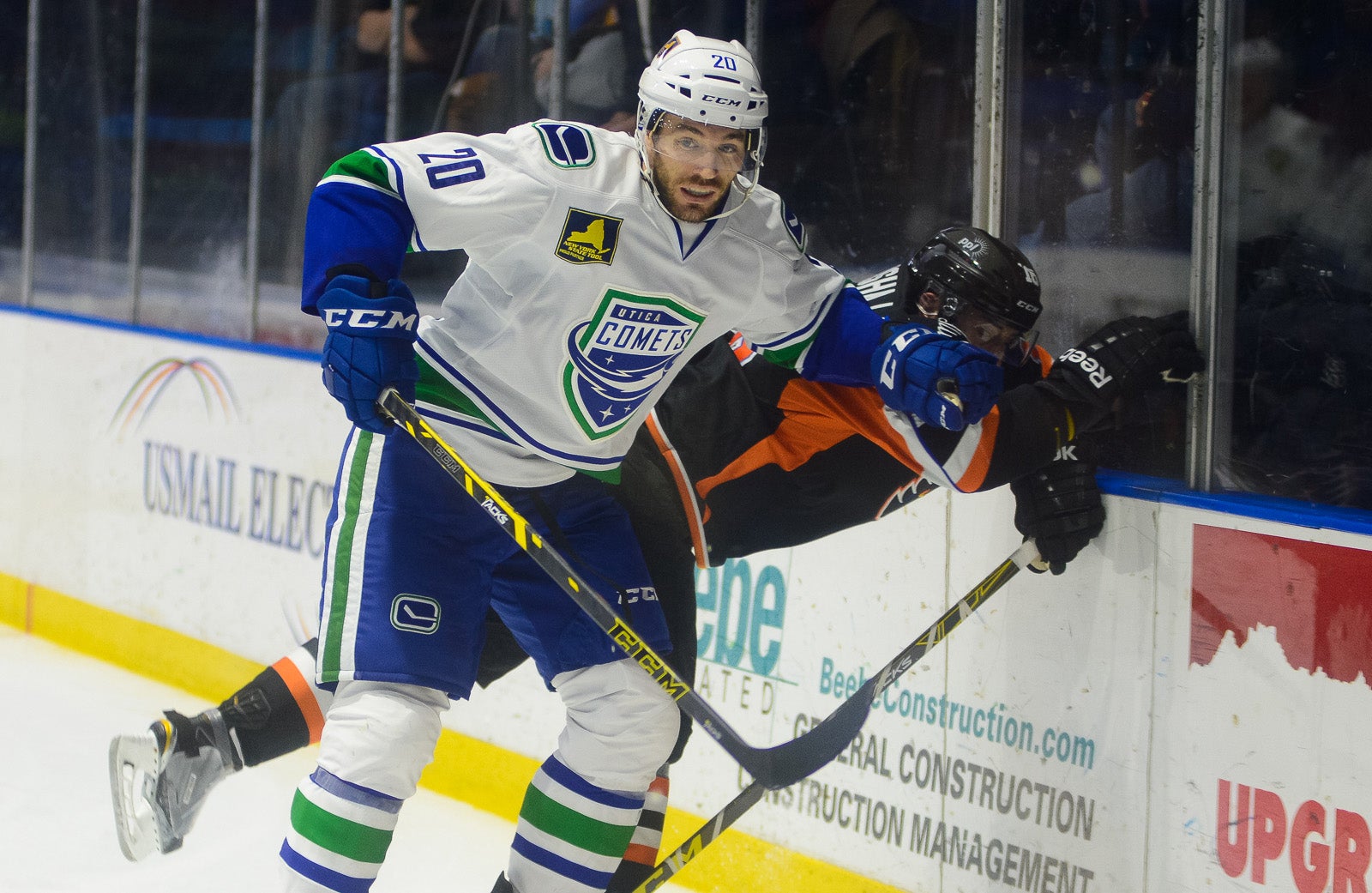 Comets Tales: Jon Landry
by Don Laible
Dec 7, 2015
Jon Landry is betting that Cinderella stories are still possible, in crashing hockey's exclusive club – the NHL.
When Landry, 32, signed a professional tryout contract (PTO) with the Comets back on on Nov. 20th, his hockey dreams were once again resuscitated. This offseason, after spending last season with the Hershey Bears, his fourth American Hockey League team prior to joining the Comets, Landry's hockey future seemed dim.
"There were some opportunities," said Landry. "But nothing concrete, and nothing panned out."
One would think that after playing the game for 14 years, which began with a four-year run at Division III Bowdoin College, some stability would have found its way into Landry's career. Quite the contrary.
Since the 2002-03 season when Landry skated for Bowdoin, Landry has dizzied himself, finding his way on 11 different teams in six different leagues, on two continents. Through all of his travels, Landry has always found a way to continue to play hockey.
"I have a different role now, but getting to the NHL is always a possibility," said Landry.
Having passed skating in his 500th professional game, for Landry, a review of his resume shows none coming at the NHL level. But, the once forward turned defenseman did come close once; very close.
In January of 2013, as the NHL lockout was ending, Landry found himself packing his gear in Bridgeport, his second of two seasons in the New York Islanders' organization, for a shot at "The Show."
The previous July, Landry signed his first two-way NHL contract with the Isles. When asked about having experienced an NHL Training Camp, Landry's voice speeds up with excitement as he tells about who his new dressing room mates were.
"My first year with them (Islanders) I didn't get to play any games in the NHL," said the 10-year veteran. "The lockout season, I get called up, and suddenly I'm practicing with John Tavares. My stall had me sitting between John Tavares and Matt Moulson."
It is memories like those that Landry reflects upon that serve as the fuel that keeps him dreaming. Since then, there has been no slowing down in terms of his conditioning, and preparation.
While he awaited word of who he may next be hired by, among the 30 AHL clubs, Landry spent this past summer getting ready. He spent off-season living in New York City with his girlfriend while making multiple weekly commutes to Darien, CT for training. At Prentiss Hockey Performance, Landry pushed himself, as he has continuously done since getting his first taste at the pro level with the Portland Pirates in 2005.
"There was Jonathan Quick, Moulson, Kevin Shattenkirk, lots of NHL and AHL players training there," recalled Landry. "Ultimately, I have always wanted to establish myself at the NHL level. That is what pushes you every summer, to bleed the colors of the team that you win a championship with."
Although a championship has come Landry's way (2007-08 with the Arizona Sundogs of the CHL), the window of adding another championship to his resume is closing.
When Landry, 32, joined the Comets he instantly jumped ahead of Blair Jones, who is 29 years old, as the senior player on the roster.
As most who are committed to succeeding in their profession, moving around is a given. Some are pushed to take opportunities, wherever they may pop up, to the extreme. For Landry, prior to settling in the Mohawk Valley, he's answered management calls in the AHL, the ECHL, the CHL, Germany, and Scotland (yes, Scotland).There have been multiple seasons where Landry had skated for multiple teams. After dressing in 38 games for the CHL's Sundogs during the 2009-10 season, Landry jumped at a "can't refuse it" offer to play overseas. He quickly packed up his bags and headed to Germany, where he logged nine games with the Cologne Sharks of the DEL.
His next pit-stop cane with the Braehead Clan of the EIHL in Scotland. In 54 games Landry collected 58 points from the blue line.
Agreeing to join the budding league did come with enticing caveats for Landry. While having an apartment and car included in his contract sounds like the perfect finishing touches to entice him to sign, the truth is there was one other important carrot being dangled in front of Landry.
An education. When being recruited for Braehead, Landry "jumped" at their offer, after he was informed that the team would pay for him to earn an MBA degree.
"I was buried in the minors here (America), so I went and loved the experience. The coach ran the program as if they were an AHL team," according to Landry. "The level of hockey over there was more like an NCAA level here. After I had that experience in my pocket, I figured to give it one more run in the States."
Although always looking at his future towards the NHL, the Bowdoin grad is realistic of his prospects.
"No matter what, hockey will end; it's inevitable," explained Landry. "At times, I'm not sure if or where I'll play. This year, was the closest it came to being over."
Landry, always the optimistic, confided that he kept believing that finding a taker for his skills was going to work out.
Three AHL clubs (Bridgeport, Iowa, Hershey) and one ECHL team (Colorado Eagles) later, and Landry has touched down with the Comets.
Having returned to North America with substantial confidence, not only in his game but having that MBA to fall back on, Landry missed out on a scheduled visit to Utica back during the 2013-14 season.
As Landry recalls, after playing in the Wild's first 50 games during the Comets' inaugural season, he broke his wrist just before the Jan. 3, 2014 contest at The AUD.
After switching from forward to defense while in Germany, claiming he wanted a fresh start in the game, Landry continues to prove that he'll do whatever is necessary to remain playing at a high level of hockey, and perhaps most importantly, remain relevant.
When quizzed on his knowledge of Utica, prior to his arrival last month, Landry says he had heard nothing but rave reviews on the support offered by the fan base.
"DeFazio tweeted me, saying it's really a passionate place for hockey, with super fans," Landry told.
In having so much exposure to different team chemistries over more than a dozen years in the game, Landry tells of immediately feeling comfortable in the Comets' locker room.
"With hockey being such a small world, when you come to a team, instantly you have 20-25 friends with similar traits," explained Landry. "You could see character in this organization, from top to bottom. The coaching staff, veterans like Alex Biega, with a mix of prospects, they're so welcoming."
When asked again about the dream of one day playing in the NHL, Landry does not hesitate, and does not ask for much.
If I were to get to play one game (in the NHL), that would be a dream come true, especially for my family."
Back to All