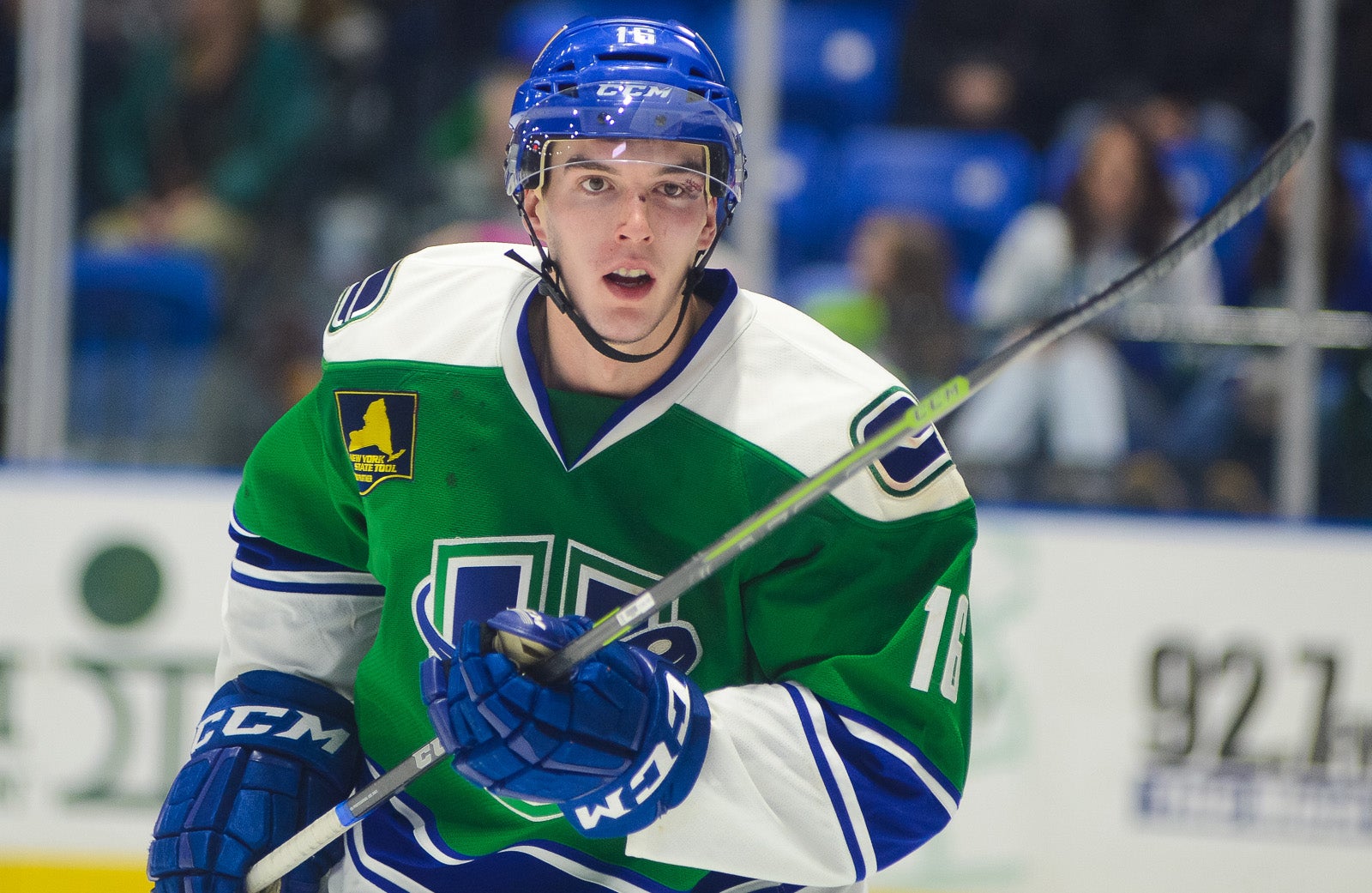 Comets Tales: Joseph LaBate
by Don Laible
Nov 29, 2015
After Wednesday's game against Lehigh Valley, and just 15 games into his professional hockey career, Joseph LaBate exploded onto the scene and became a household name.
November 25, 2015, started out like any other Utica home game. In the press box there was a plethora of information distributed to members of the media. Individual stats, team stats, player bios, period-by-period updates; lots of numbers, in black and white, filled up countless pages.
These pages, necessary and abundant, do their best to tell the on-going story; a deep dive, into what is happening on The AUD's historic sheet of ice. But sometimes, beyond the score, beyond which player lights the red lamp, necessary details get omitted.
On this past Thanksgiving Eve, beyond the numbers, and sheets they filled, one name stood out, as if in color – Joe LaBate.
"Joe looked good again tonight," said Comets Head Coach, Travis Green, at the post-game press conference. "He is working hard to find his way. Joe scored his first goal, and he had his first fight. After getting stitched up, (Joe) came back out. That's not an easy thing to do."
Fight? That's like labeling the famous check that Comets' Darren Archibald unloaded on then Lake Erie Monsters defenseman Karl Stollery as another routine, run-of-the-mill body check.
At 6'4″, 205 lbs., the Minnesotan is considered a "big guy" in the hockey world. It's not often a man of LaBate's stature can look undersized. Enter Sam Morin. The 6'7″ (off skates) 227 lbs. defenseman for the Lehigh Valley Phantoms swapped face-off positions with his left winger to square up with LaBate.
"We were up 4-0. I think he (Morin) was trying to get momentum for his team," said LaBate. "He's a big guy."
What transpired next between LaBate and his Chara-like opponent wasn't pretty, even for hockey. Blows were exchanged. At some point, something, a visor or a fist, connected to the left eyebrow of LaBate. The resulting effect? A deep gash and a black eye that provided one of this season's most gruesome photos.
The now viral photograph that was captured by Comets' team photographer Lindsay Mogle, showcased LaBate's bloodied face and helmet visor as he skated to the locker room to get patched up by the team doctor's. (Warning: Link includes graphic that some may find disturbing: LaBate Photo)
What LaBate did next is exactly what elevates hockey players past all other athletes in terms of toughness. At the
14:34 mark of the third period, LaBate rifled a shot past the Phantoms' netminder. His first goal as a professional hockey player.
"You can't take shortcuts," LaBate emphasized his approach to hockey while standing outside the locker room post-game. "It's hard to explain the feeling I have on scoring the goal. It took me 15 games to get it – that's special. But, I am more excited that we won 7-1."
It's that tenacity and fortitude that factored into Vancouver's wanting LaBate to be in their fold when they drafted him in the fourth round of the 2011 NHL Entry Level Draft. Coming to the Comets after four years at the University of Wisconsin -Madison, LaBate was part of a program that had won six national titles, and has advanced to the Frozen Four one dozen times.
The usual sold-out AUD of 3,860 fans seem to have unofficially welcomed LaBate to Utica, on this Thanksgiving Eve.
Although in Utica for a couple months this season, LaBate did have a short introduction to life as a Comet last spring. Signed by the Canucks in April after college, LaBate was dispatched to the team, as the run to the Calder Cup kicked off.
With two regular season games under his belt as a Comet, LaBate tells of staying with the team throughout the run.
"I almost got into a (playoff) game," LaBate pointed out.
It's the structured, detailed game; making sure the "little things" get done approach at Wisconsin that LaBate credits his readiness for the pro level.
"Coach (Mike) Eaves expected a lot out of me. I was a late bloomer," said LaBate.
Skating in the WCHA and Big-10 with the Badgers, and politely calling himself a "late bloomer" is an understatement. But in truth LaBate demonstrated before arriving in Madison that he was, at the very least, a prospect.
Born in Burnsville, Minnesota, and having moved eight miles when five-years-old to Eagan, MN, LaBate flourished as a high schooler at the Academy of Holy Angels in Richfield, MN. The talent and numbers collected by LaBate would lead to him making the rare jump directly from high school to Division-I hockey.
As a Badger freshman, LaBate logged 37 games, and 20 points. It was his time with the Holy Angels Stars that wouldn't allow college coaches to ignore Joe's name when it came to recruitment trips.
In two seasons (2009 and 10) at the Catholic college prep school, all LaBate did in his 50 games with the Stars was score 56 goals and gain 107 points. With production like this, it's no wonder both the Badgers and Canucks took interest in LaBate's future.
Back to All