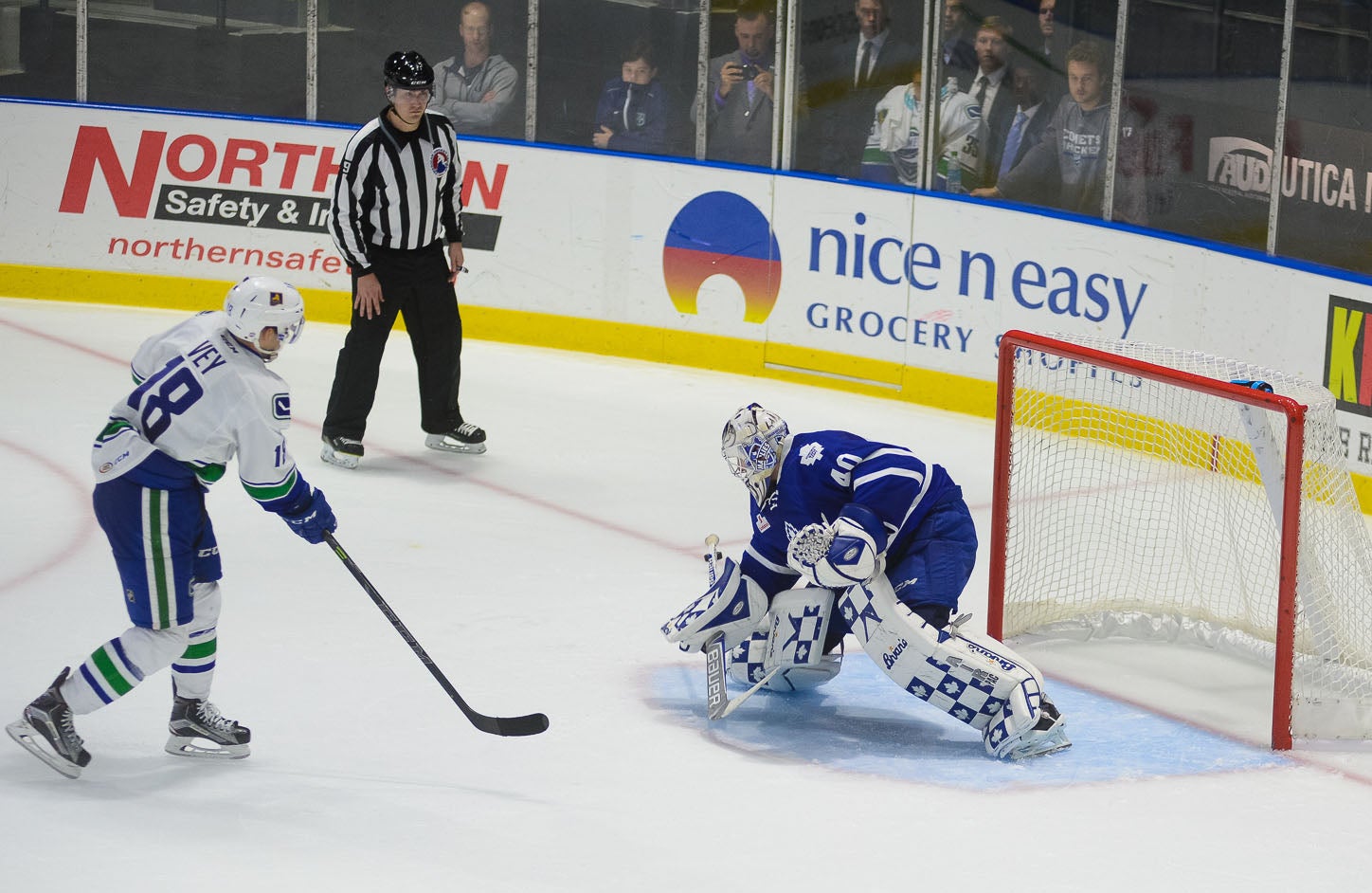 Comets Tales: Lindey Vey
by Don Laible
Nov 17, 2015
For Linden Vey, the quickest route back to the NHL, runs through Utica.
Vey, 24, knows what it takes to be a Vancouver Canuck. Last season the right-handed centerman spent his first full season in the National Hockey League. 75 games and 24 points to show for his efforts, Vey finds himself in the precarious back in the American Hockey League, this time with the Comets.
"It's always tough to come down," says Vey, a veteran of three previous AHL campaigns with the then Los Angeles Kings' affiliate Manchester Monarchs. "The NHL is a great league. I just have to keep working hard to get back to it."
As with most journeys, arriving is half the battle – sustainability is the other part of the beast that requires an on-going battle that involves incredible personal sacrifice. To Vey's credit, he's mounted an admirable put-up-and-shut-up war on his doubters.
Through 13 games this season, Vey's production numbers are both consistent and impressive. While with Manchester, he averaged 70 plus games-played during his first two seasons, and racked up 50 points per season. Only an interrupted call-up to the Kings of 18 games during 2013-14, their second Stanley Cup winning season in three, stymied Vey from increasing his overall offensive numbers.
Trading for Vey in June 2014, clearly the Canucks' leadership were interested in what he brought to the rink. After a very unlike Vey season last year with the Canucks, management put him on waivers this past October. Now, Vey finds himself sharing a locker room loaded with other highly touted prospects, all wanting the same thing he does – a chance at "The Show".
While speaking after a Comets practice session, Vey is highly philosophical about his current occupational situation. With his soft voice several octaves lower than the music blaring from the Comets' locker room, Vey offers an honest appraisal of last season with the Canucks.
"It's kind of weird sometimes, how things work out. It wasn't my best year. The coach (Canucks' Willie Desjardins) knows me well," says Vey.
Vey's prior connection with Vancouver and its personnel are what he labels as "hockey's small world."
It was the Canucks' bench boss who coached Vey at Medicine Hat in juniors (WHL) for his first three seasons in Western Canada. Also, at various times, past and current Utica teammates Wacey Hamilton, Curtis Valk, and Hunter Shinkaruk joined Vey on the Tigers' bench – manned by Desjardins.
From spending last season together in Vancouver, and going through training camp this past fall, there is no guess work on Vey's capabilities. For now, Vey is making the most of his situation, and is doing what he can to be noticed once again by his former coach of two levels.
Comets' coach Travis Green has been pairing Vey with Darren Archibald and Nicklas Jensen, as well at times throwing Mike Zalewski in the mix, on the team's top line. Writing Vey's importance off, for the Canucks overall picture, would be premature. Time, patience, and confidence are powerful weapons working in the center's corner.
"I know what it takes to win the (Stanley) Cup. It's that kind of emotion that takes you to the next level," recalled Vey.
Armed with an understanding of what is required for him to do in Utica, the path back to the NHL could not be any clearer for Vey.
Back to All