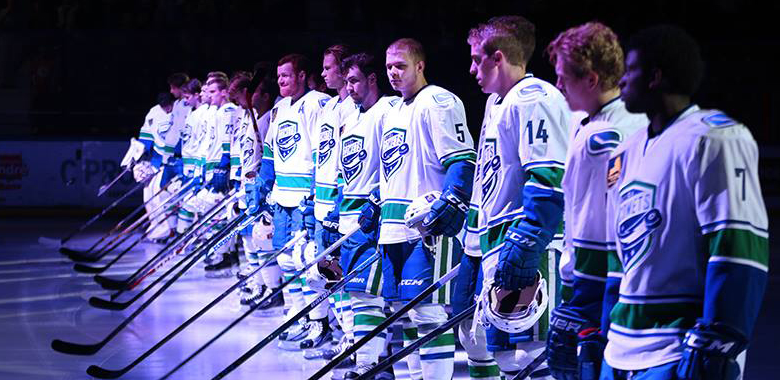 Comets Tales: New Faces, New Team
by Don Laible
Oct 8, 2015
Players come and players go, especially those of veteran status. That is the life of an American Hockey League roster. This year's Comets roster, compared to last year, resembles just that.
What happens in Utica, doesn't stay in Utica.
The rebuilding of the Canucks' organization comes through Utica. Canucks' General Manager, Jim Benning, and his staff continue to make additions and subtractions to their minor league rosters that will hopefully benefit all members of the organization and propel the NHL franchise to the Stanley Cup.
Last season's Vancouver Canucks shocked many outside the franchise when they finished in fifth place in the Western Conference. They ultimately would exit the Stanley Cup playoffs with a quarterfinals loss to the Calgary Flames. The goal this year? To improve on that finish, and the Comets roster plays a vital role in chasing that goal.
Last season, the second for the Comets, proved to be just shy of completely magical. The team that captured the Western Conference championship, led by Captain Cal O'Reilly, Bobby Sanguinetti, Jacob Markstrom, and Darren Archibald, will look drastically different this season.
Repeating last season's success is a gargantuan task, even with the exact same roster. This year's youth movement on the Comets roster will make that task just a bit tougher. For Utica to return to the Cup chase, the blending of some new and familiar faces must occur.
Much of this season's Comets roster have shared ice and locker rooms before. A welcoming reunion of sorts kicked off this past July at the prospects development camp. Shawnigan Lake, British Columbia was where Benning, Green, and others began the evaluation process that would ultimately define this season in Utica.
Jordan Subban is someone to look to for exciting growth from the blue line. After completing four years in juniors with Belleville, the 2013 fourth-round draft pick by the Canucks has been ticketed for Utica. While skating with the Bulls, Jordan was a teammate of second-year Comet Brendan Gaunce.
Another Canucks pedigree is Dane Fox. Last season, Fox, 21, began his professional career with the Kalamazoo Wings – Vancouver's ECHL affiliate. Skating in 70 contests for Coach Nick Bootland, Fox finished third on the team in points (45), and second in goals (33), in his rookie season. Fox hopes to build on that and vault into the AHL this season.
Remember Ronalds Kenins? The left wing recorded 36 games played for the Comets last season, then was rewarded with a call-up to Vancouver – not to be seen in a Utica jersey again. After six seasons in both the Swiss A & B leagues, and 30 games played on the NHL level, Kenins, of Riga,Latvia will be a welcomed returnee to The AUD.
In goal, Joe Cannata is back. Shuffling back and forth from Utica to then ECHL Ontario (CA) Reign, the always steady Cannata gives nothing but frustration to opposing teams. With Joacim Eriksson and Markstrom gone, expect Cannata's work load to increase this season, his third in a Comets jersey.
Richard Bachman. Comets fans and players became all to familiar with his shut down talent between the pipes during last spring's Calder Cup playoffs. Bachman fell just a single goal shy of single-handedly de-railing the Comets train to the Calder Cup Finals. Originally from the Dallas Stars organization, Bachman spent the last two seasons with the Edmonton Oilers system. Armed with 40 wins over the past two AHL seasons, along with a 2.38 GAA in 2014-15, it was Bachman in net on May 7 (and 14 minutes of May 8) for Oklahoma City in Utica. You remember, the quadruple overtime game at The AUD? He made 56 saves, played for 96 minutes, in what would ultimately be a 2-1 Barons win. Bachman started the game on a Thursday, and finished it at 12:14 a.m. Friday. The Western Conference quarterfinals game became the sixth longest in AHL history.
Gone from Utica this season is Kent Huskins. The highly respected veteran's leadership was a much appreciated shoulder to lean on for his teammates. This season, that same veteran leadership could be picked up by Blair Jones. With 132 NHL games to his credit, Jones is no stranger to the AHL. Last season the 29-year-old center wore a Lehigh Valley Phantoms jersey, and saw action in four games with the Philadelphia Flyers.
Welcome Cole Cassels to the Mohawk Valley. A member of this past season's OHL champions Oshawa Generals, Cassels, of Hartford,CT, increased his offensive output each season in juniors. Four years with the Generals, Cassels went from collecting 11 points in year one, to 81 in 2014-15.
A couple of other names to expect to hear about this season are Joseph LaBate and Taylor Fedun. Labate, drafted by the Canucks in the 2011 Draft, was in coach Green's line-up for two games last season. Coming off of four years at the University of Wisconsin,Labate saw action against some of the best D-I collegiate hockey programs in the nation. Minnesota, Michigan, and Michigan State were among the foes he squared up against.
Taylor Fedun is another highly experienced defenseman who Green will have the luxury of putting out on AUD ice. ECAC experience with Princeton, NHL action with San Jose, and 135 games at the AHL level with Worcester, has primed Fedun to be a veteran and calming force, on the Comets back end.
Chances are better than even that given all the moves already made by Vancouver, more changes are on the way for Utica. Saturday's season-opener at Rochester, and the following weekend's clash in Hartford with the Wolf Pack, have caught the excitement of the Comets faithful.
Back to All