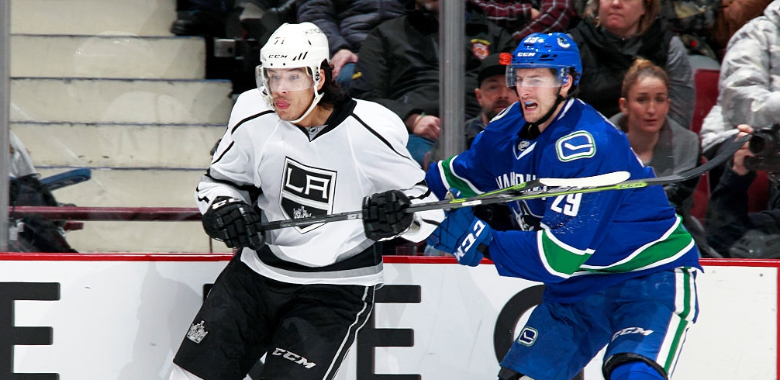 Comets Tales: Pedan's NHL Recall
by Don Laible
Feb 15, 2016
Andrey Pedan had his first taste of "The Show" earlier this season. So, how was it?
"I was excited to be up there," said Comets' defenseman Andrey Pedan. "I met a lot of great people there."
Whether you're a teenage prodigy or a 22-year-old playing in one of the AHL's 30 cities like Pedan, getting called up for NHL duty is a thrill to savor. That first time a player gets the word from his coach to pack his bags and to call his family with the good news is particularly special.
Twice this season, the first coming back on Nov. 23, Pedan received his marching orders to leave Utica immediately and to report for work as a Vancouver Canuck. It would ultimately be a nine-day stint with the Pacific division team. Pedan, one of the several first-time call-ups from the Comets this season alongside Hunter Shinkaruk, Ashton Sautner, Brendan Gaunce, and Alex Friesen took his promotions in stride.
"I expected every day to be there (Vancouver). That's my goal everyday in Utica," said Pedan. "The first time I went up "Greener" called me at 1am."
As a professional player, there is no sweeter phone call to receive. Pedan's first nine days as a Canuck came nearly one year after he joined the organization. Via trade, Pedan joined the Canucks family on Nov. 26 of 2014. He was traded from the New York Islanders in exchange for Alexandre Mallet and a draft pick. At 6'5" and 215 lbs., Pedan carries himself with the same fearlessness as a boxing heavyweight.
A talented defenseman who never hesitates to drop the gloves when called upon, Pedan had a surprise waiting for him this past Dec. 1.
On November 22, the Comets' ended a four-game losing streak in Hartford, CT. The 3-2 win over the Wolf Pack came before 2,922 fans. For Pedan, the next time he would see game action would be in Staples Center with 18,230 onlookers.
"I was nervous during my first practice, after that I was good," Pedan explained. "That's when I realized how much hard work it takes to get there (NHL)."
The Canucks were scheduled to play four games over the course of those nine days in late November. Pedan suited up for just one contest. That one contest, the very first of his pro career, was against the Los Angeles Kings on Dec. 1. Playing on the road in LA, Pedan registered five penalty minutes.
The game between the Canucks and Kings extended past regulation and into overtime. Anze Kopitar scored in 2:02 of the OT to gives the Kings a 2-1 win over Vancouver. But, there's more to the memorable moment that doesn't show in the official box score.
In his first stint as a big leaguer, Pedan was called upon to play what is a different position for him. He spent the night skating at left wing due to the team being short on forwards with Jake Virtanen and Chris Higgins out with injuries.
"I kept my game simple," recalled Pedan. "In the moment, I had confidence that I could play there (on the wing)."
On Dec. 12, Pedan's name was associated with the words "recalled on loan from Utica,", once again. This time, his 13-game stretch with Vancouver lasted until Jan. 12. There would be no Christmas or New Year's celebrations with Comets' teammates for Andrey. Instead, he would skate in two more games with the Canucks.
Between the training, the practicing, and the traveling, Pedan was receiving an education on how to be an NHL pro. Players hear about the experience, but until you're doing it, it is just words being exchanged. Another exchange following Pedan's NHL debut: the jersey he wore while playing against the Kings.
"I sent my jersey to Minnesota, to my brother," Pedan said. "Now it's home, in Russia."
Andrey first sent the Canucks' jersey to his brother, Ruslan Pedan, also a defenseman and in his third year at Bemidji State University in Minnesota. Ruslan then completed the circulation of his older brother's prize by sending it home to their parents in Russia.
Back to All