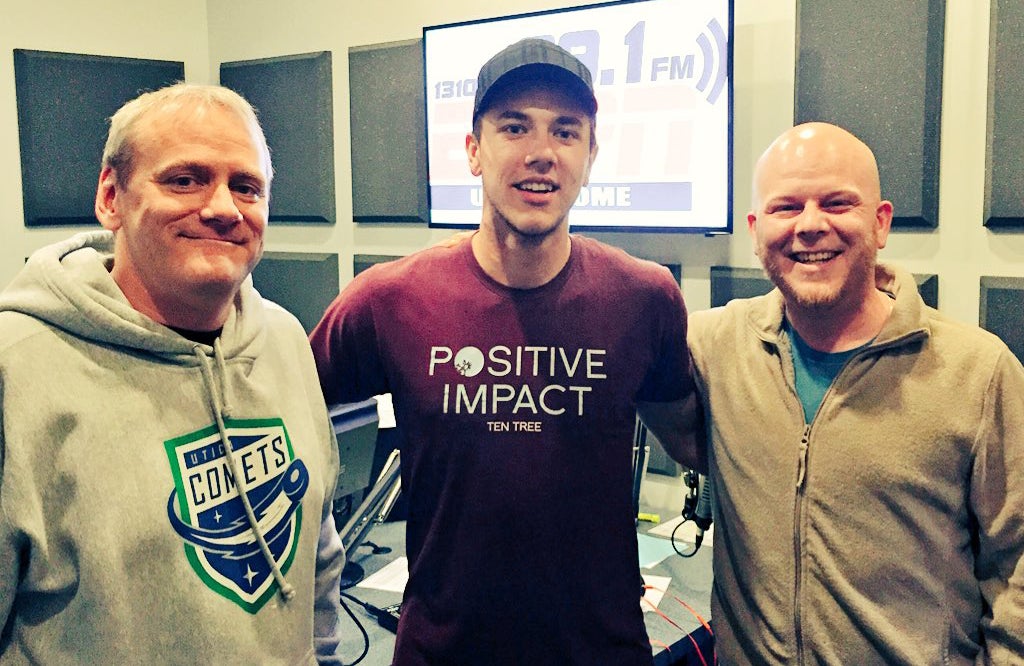 Comets Tales: Radio is the Talk of the Town
by Don Laible
Jan 4, 2016
"…I'm Rainman, he's Scoop, and you're listening to Comets Insider on ESPN 99.1FM…"
One hour of Utica Comets talk radio can be heard every Monday, from 7-8pm, emanating from downtown Utica; 520 Seneca Street to be exact. Inside the renovated Landmarc Building rests 5,000 square feet occupied by Galaxy Communications. This is home to four stations, including ESPN Utica-Rome.
In a studio known among staff as "Air 2", this is where Insider is produced. Rain, a 19-year veteran of local music airwaves, is the driving force behind the 60 minutes of Comets talk. In observing him prior to show time, it's clear that Rain has committed himself to the task.
With the launch, and subsequent growing popularity of Comets Face Off, a 30-minute weekly TV show seen on WPNY each Thursday evening at 7pm, a radio brother, of sorts, seemed to be a natural progression. Given the sold-out streak Comets' home games are experiencing, and the community's loyalty to the AHL club at The AUD, Insider is another can't miss avenue for fans to get their Comets fix.
The ultimate team player, Rain shies away from putting an "I" in the Insider team.
"Ed Levine (President & CEO of Galaxy Communications),Paulie (Paulie Scribilia Operations Manager of ESPNUR), we all started talking about getting something going," said Rain, who when not heard on K-Rock 94.9 (Comets' official broadcast station) weekdays 2:00-6:00pm, hosts a Sunday sports talkfest on ESPN – The Sportszilla Show. "Mark Caswell, Jr. became involved in having players made available for us. Then Scoop, the afternoon host on WOUR 96.9 and production director for Galaxy, became my co-host. It has been a collective effort by all."
Centrally located just blocks away from The AUD and within walking distance from downtown attractions, the Landmarc Building is convenient for the show's main attention-getters; the players.
The show's format, similar to that of Face Off, is easy to follow. "We talk about the previous week's games, and archive game information," explained Rain.
By the time the Comets audience begins to digest Insider's content, it is the result of much advance planning. Rain reveals that all parties involved with the program talk every day. The final product is planned in pieces.
"We put it (Insider) together a week ahead of time," Rain explained.
Servicing the fans, that's the genesis of Insider. As the program grows in familiarity with those behind the microphone, as well as the listeners, there are possibilities as to what direction it can go.
"Expanding on the show is a possibility," said Rain. "I want to have a fan chair, for someone to come in and join us. We've discussed broadcasting live from The AUD, or some location live."
The final pieces of Comets Insider come together the hour in-between Rain's shift ending on K-Rock at 6pm, up until the red "on air" light flashes on at 7pm.
A show map; the order in which topics and guests will flow, bios on guests are finalized, studio visitors are welcomed, and a final production meeting is conducted.
Insider originally aired at the same time that "Face Off" airs on Thursdays. Now, due to a conjoined between the bond formed with Galaxy and WUTR, fans can experience the best of both media outlets. A cooperation between both programs shows the solidarity felt by local media that has the same goal – to put their audiences first.
Comets fans can call-in to Insider at 315-768-1310.
Back to All