DEMKO & BRODEUR - SIX DEGREES OF SEPARATION
Mar 5, 2018
Utica's All-Star goalie may have grown up in San Diego, but his hockey idol, Martin Brodeur was clear on the other side of the country.
Heroes. Most all of us have them. Some associations come by accident, and others are triggered by one's occupation or actions. For seven-year old Thatcher Demko, seeing a former Utica Devil hoist the Stanley Cup in June 2003 sealed the deal on who he wanted to emulate.
Brodeur led the New Jersey Devils past the Mighty Ducks of Anaheim in seven games, to celebrate their third Stanley Cup championship in nine seasons.
"That was the first one (Stanley Cup Finals) I could really remember, and understood," explains Demko, selected in the second-round of the 2014 NHL Entry Draft by the Vancouver Canucks. "I thought it was real cool how he (Brodeur) dominated."
The theory of Six Degrees of Separation believes any two people could be connected in a maximum of six steps. For Demko and a three-time Stanley Cup winner, their similarities; connecting their hockey dots can be summed up in one word - Utica.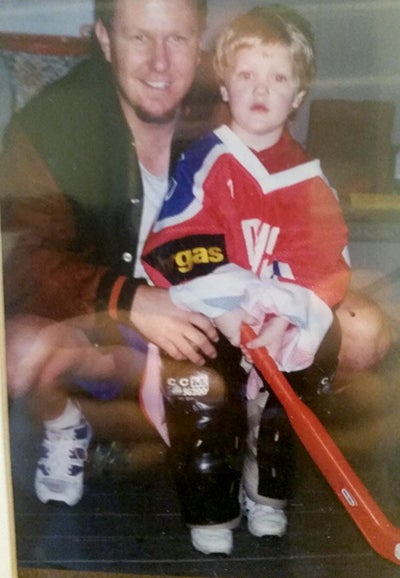 With hockey being the center of their worlds, both strapping on goalie pads, AND both getting their professional starts in the same building on Oriskany Street West, it's no wonder why Demko's uniform number is 30.
As a Utica Devil for the 1992-'93 AHL season, Brodeur wore 1 on his jersey. Once reaching New Jersey permanently, it would be number 30 throughout his 22-year NHL career. "I had a Marty Fathead on my wall, and tons of posters," says Demko, who arrived in Utica a couple months shy of his 21st birthday.
One New Jersey Devils' trip west remains special to the future AHL all-star. His dad, Brenton Demko, picked up tickets for a game at Staples Center. Devils - Kings. Live NHL action, with Demko's hockey hero on display.
Hockey loyalty and geographical location brought the future Comets' netminder to a crossroads, when the 2012 Stanley Cup Finals matched Brodeur and his Devils against the Los Angeles Kings.
"I was split," explains Demko. "Half of me had to cheer for the Kings. That series was my all-time dream match-up. Marty and Jonathan Quick were two great goalies."
Brodeur, like his fan growing up in Southern California, was rapidly approaching his 21st birthday shortly after playing his only AHL season. During the Devils' final season in Utica, Brodeur would register a 14-13-5 record.
During his inaugural season with the Comets, 22 victories were registered by Demko. He is closing in on that mark again, with over a month of the regular season remaining. Oddly enough, Demko has never met Brodeur up close. This is a Utica connection that must be made.
Back to All