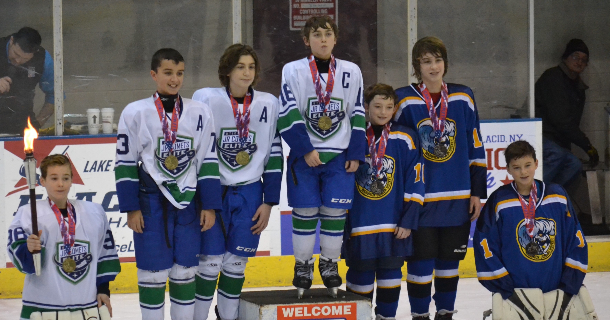 Elite Jr. Comets Win in Lake Placid
Jan 19, 2016
Over the weekend of January 7
th
, the 2004 Utica Jr. Comets Elite team had the opportunity to travel to Lake Placid, New York and compete in the prestigious Can/Am Hockey tournament. This year, the 2004 Elite team participated in the PeeWee division, comprised mostly of 2003 birth year teams. The 2004 Elite team played against teams mostly made up of players one year older than them, but the Jr. Comets would not let that get in the way of their goal to win the tournament.
The 2004 Elite team checked into the hotel on Thursday and played their first game later that afternoon. Their first opponent were the Delco Phantoms, from Aston, Pennsylvania. Despite falling behind 2-1 in the 2nd period, the 2004 Elite team was able to battle back and come out on top with a 5-2 win. The team was back at it Friday morning versus the Warwick Wave from Warwick, Rhode Island. Everything seemed to come together during the game as the 2004 Elite team walked away with a dominating 8-0 win. Sitting on top of the standings, the 2004 Elite team played their final preliminary round versus the Louisville Lightning from Louisville, NY. The team carried their momentum from the previous games and earned a 6-1 win, closing out the round robin games with a 3-0 record while scoring a total of 19 goals and surrendering just 4 goals against.
The 2004 Elite team competed in the Gold Medal game Sunday morning. With their goal of winning the tournament now within reach, it would take a solid thirty-six-minute effort to close out the weekend as champions. Their opponent, the Warwick Wave, previously lost to the Jr. Comets by a score of 8-0 earlier in the tournament. The 2004 team prepared for a hard fought game despite their prior result, as anyone can beat anyone on any given day. The two teams battled back and forth for three periods, with the 2004 Elite team taking a 2-1 lead with just over 4 minutes left in the 3rd. The Jr. Comets closed out the game with an empty net goal, securing the gold medal and champions of the tournament.
The obvious highlight of the tournament was winning the Gold Medal, but the overall experience will leave lasting memories on our Elite players and families. The teams also got to experience outdoor scrimmages on the Olympic Oval and take in the awesome atmosphere Lake Placid has to offer. Families were able to visit Whiteface Mountain to watch parts of the World Cup of Bobsled and Skeleton during the weekend, all part of the Can/Am Lake Placid team package. The weekend was a huge success, both on and off the ice. The 2004 Elite team looks to carry the momentum into their highly anticipated trip to Toronto!
Back to All