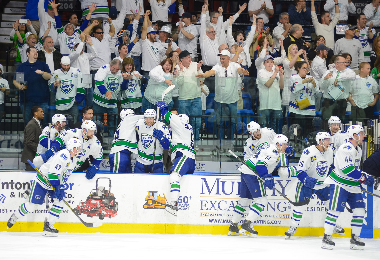 Let's Build on This
by Mark Caswell, Jr.
Jun 14, 2015
Losing stinks. There are no two ways about it. Losing stinks. Period. I'm not one that can look at the bright side of losing. Never can, never will, and shamefully I won't apologize for being super competitive, because it is a part of who I am. However, in defeat there are always things players and coaches take away that can help them in games going forward. As a community, we should be no different.
As Travis Green has said before, "losses at this time of the year sting. They are supposed to sting."
After the sting wears off, and trust me it will, remember what these past few weeks, months rather, have felt like.
Remember what it felt like to see, hear, and feel the entire community pulling on one rope for the first time. You could not walk down the street without hearing about the Comets playoff run. In a scene straight out of HBO's hit television show The Leftovers, everywhere you looked people wore white. They wore white to work, to school, to games, or to dinner. Why? For one goal. To rally together for one cause. Our Comets.
Remember the positives that came out of it. Like the tailgate for example. What started as a fan-driven fun BBQ turned into a community effort that was featured on the Vancouver Canucks website and talked about throughout the hockey world as rivals marveled at the community's passion for their city. It evolved from a small group of people paying for all the food for everyone, to fans pitching in "tips", to stores and other fans donating food items to make sure everyone entered the arena with a full belly.
Remember the pure happiness and excitement that coursed throughout the entire Mohawk Valley before, during, and after Game 5 vs the Chicago Wolves, Game 7 vs Oklahoma City Barons, or Game 6 vs the Grand Rapids Griffins.
Remember how you swelled with pride when you told total strangers about Utica, NY and what it was like to live in Utica, or attend a game in Utica. Remember how you told the same strangers what places they NEEDED to visit when they visited. You beamed with pride for your hometown.
Finally, I implore you to remember June 13, 2015, at 9:28pm. At one end of the ice the visiting team did the unthinkable. They celebrated on our turf. Did anyone see that? Or notice it? I did not. I witnessed a scene I will never forget. The AUD was alive. As alive as it ever has been as what felt like the entire city chanted "U-TI-CA", and then "THANK-YOU-COMETS". Over, and over, and over again.
None of these feelings need to go away any time soon.
Take this positive energy, this positive attitude that has never been seen in Utica before, and apply it to your everyday life. They say it takes 27 days to make something a habit. Well, we have all exceeded that, by far. I urge you to dedicate this energy to making Utica an even better place. Be it by volunteering your time to the needy, to youth sports or by simply supporting a local business. There are countless ways we all can do just a little bit more. Do it and Utica will continue to rise and to grow into the city we all know it can be.
Utica, NY burst onto the hockey map this season because of YOU the fans. Everyone now knows you are a huge factor once the puck drops. Now let's build on that. We have a few months until we get to start this journey all over again in October, hopefully with better results. Let's not wait to feel as good as we have the past few months again. Let's rock this city off the ice like we rocked The AUD on game nights.
After all, the Boilermaker is just 27 days away.
Back to All