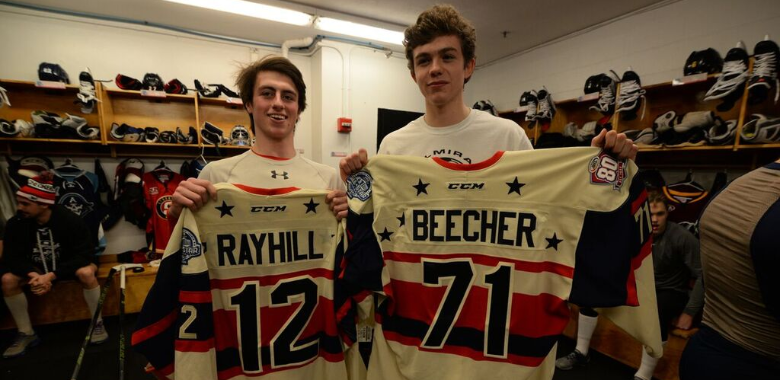 New Hartford Native Shines in Skills Competition
by Keith Veronesi
Feb 3, 2016
The Utica Comets would like the congratulate youth hockey player Jimmy Rayhill, from New Hartford, NY, for his recent participation and success in the 2016 American Hockey League All-Star Skills Competition that took place on January 31st in Syracuse, NY.
Rayhill was one of four players selected by Syracuse Crunch COO Jim Sarosy. During the event, while competing in conjunction with the some of the brightest stars in the American Hockey League, Rayhill and his peers took part in three of the night's events; the puck control relay, fastest skater, and accuracy shooting. Rayhill's scores, along with the three other youth players scores, would be included in the team totals for the Eastern and Western Conference.
Despite the nerves Rayhill felt leading up to the event, it was evident that when it came time to compete, he let his natural ability take over. Rayhill, paired up with Johnny Beecher, 14, from Elmira, NY, won the Sher-Wood puck control relay against Ryan Kirwan, 13, from DeWitt, NY and Luke Tuch, 13, from Baldwinsville, NY. Jimmy recorded a time of 15.976 in the CCM Fastest Skater event. For comparison, Derek Grant, from the Stockton Heat, won the event with a time of 14.307. In Jimmy's final event, the Turning Stone Resort and Casino Accuracy Shooting, he hit all four targets in 8 attempts, completing the event with a better score than some of the competing AHL players.
Again, the Utica Comets would like to once again congratulate Jimmy Rayhill on his success at the event and for representing the area so well! It is exciting to see our local talent continue to thrive at the highest levels of youth hockey.
Back to All