JOE ROBERTS ANNOUNCED AS NEW COMETS BROADCASTER
Jul 9, 2018
Utica Comets President Robert Esche announced today that the new voice of the Utica Comets will be Broadcaster Joe Roberts from the Kalamazoo Wings, the Utica Comets' ECHL affiliate.
In their search for the position, the Comets received well over 150 applicants with recommendations coming from every corner of the hockey world. After an extremely thorough review process, Roberts was selected unanimously by the organization, and with some guidance from famed former Comets Broadcaster Brendan Burke.
"For me personally, Joe was able to check a lot of boxes, but most importantly, I feel he has a bigger-than-life personality that will resonate with our fans and our community," said Comets President Robert Esche. "It is extremely special to be able to bring someone up through the organization from Kalamazoo, as Joe is already familiar with our team here in Utica. I look forward to fans getting to know him for the upcoming season."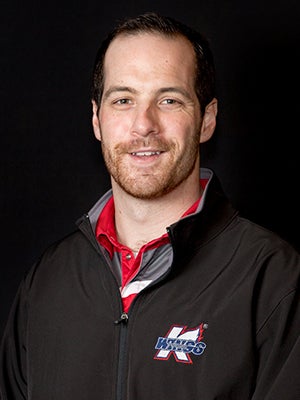 Roberts has been the Wings broadcaster since 2015. While with the Wings, he was a finalist for ECHL Broadcaster of the Year Award in 2017 and the winner of the league's Media Relations Award of Excellence in 2018.
For Roberts, getting the call-up to the AHL is a dream come true and the next step in what he hopes is a long career with an end in the NHL.
"While most kids watched games and imitated their favorite players, I watched games and imitated my favorite broadcasters," said Roberts. "I knew from a very young age that broadcasting was exactly what I wanted to do with my life. I used to fall asleep listening to Red Wings games when I was a kid."
"For every player who battles for a call-up to the American Hockey League, there's a broadcaster who's doing the same. The prospect of calling players who I had the chance to call in Kalamazoo is very exciting, and moving to the next level with them is extremely special."
"It's obvious that the Comets are a first-class organization in the American Hockey League, and one I'm proud to be joining. It's amazing to see how the community rallies around the Comets, and their passion is unmatched," said Roberts. "I look forward to bringing high-energy play-by-play to the fans, and creating new and engaging ways for them to get to know the team. It's truly humbling to be filling the shoes of such great broadcasters who have been part of this organization."
Roberts is a graduate of Western Michigan University, where he majored in Film, Video, and Media Communications. He comes to Utica along with his new wife, Jessica, and their dog, Otis. Follow Roberts on Twitter - @RobertsOnTheMic
Back to All