ROUND ONE PLAYOFFS NOTEBOOK
Apr 17, 2018
The Calder Cup Playoffs have returned to Utica and with that comes the return of the Playoff Notebook!
For those unfamiliar, this will be your one-stop shop for all things playoff related. We'll provide updates each day to keep you up-to-date on your Comets during their first-round matchup and beyond.
For instant updates follow along on all of our social media channels: Facebook, Twitter and Instagram.
The Comets begin their quest for the Calder Cup north of the border in Toronto, Ontario where the top-seeded Marlies stand ready at the Ricoh Coliseum for games one and two. The Comets will return to home ice on Wednesday, April 25 to face-off in front of the best fans in the league.
Series Preview:
Get the series schedule here. A complete series preview can be found here.
Also, check out these interviews:
Forecast Calls for Whiteout Conditions: The Comets will be home for Game Three on Wednesday and the forecast is calling for a total whiteout in the area of 400 Oriskany Street West. Make sure you're prepared with your shirt, hat and most importantly tickets!
---
Sunday, April 29 - Game Five
Today we decide which team moves on to face the Syracuse Crunch in the second round. The puck drops at 4pm, and you can join us at the Adirondack Bank Center for our Game Five Watch Party! Doors will open at 3pm and we are offering $3 draft beers along with discounted concessions. Seating is first come, first serve and the game will be broadcast on both the video boards as well as inside Zetlin's Lounge and the concourse TVs.
Get all the facts for today's showdown in our Game Five Preview.
This is the second time in four playoff years the Marlies find themselves in a Round One, Game Five scenario, the last time being 2015 against the Grand Rapids Griffins.
The Comets also find themselves in a decisive Game Five for the first time since 2015 when the Comets and the Chicago Wolves went five games in 2015. The Comets won 4-2.
As always, you can follow the action with updates on Twitter and you can tune in on AHL Live or KROCK.
Let's go Utica!
Postgame:
That was tough. A season that saw over 100 transactions, 58 different players and so much more the Comets dug deep and still managed to pull off a playoff berth.
The Comets saw their season come to a close in Toronto this afternoon, you can get the full recap here.
It was another unbelievable season in Utica and we cannot thank you the fans enough for all your support these past five seasons. Games Three and Four were incredible and your support truly helped push this team back to Toronto.
Quotes:
Head Coach Trent Cull: "It's been a great group of players all year. They've been extremely low-maintenance and easy to direct. They've found ways to come back and persevere all season long. They've worked and they've tried all year long."
"We had 58 players play for us all year and found a way to make playoffs. They could've handed their hat in last Wednesday at home and they find a way to win the next two games. They've been a great group to coach."
Captain Carter Bancks: "It was a resilient group and it was a pleasure to be one of the leaders of this team. The boys fought hard right until the final whistle."
Goaltender Thatcher Demko: "It's tough, the guys fought hard. It's been a fun year, we faced a lot of adversity together and guys bond through those times. It's tough to swallow."
Several fans also attended the Game Five Watch Party at the Adirondack Bank Center.
"I'm a diehard fan and I wanted to be around other fans for Game Five. I love the game and I love this atmosphere. This shows that we as fans want to keep it going." - Amy Ernst, season ticket holder
"I saw an ad for the Watch Party on Facebook and I was excited. I think it's great they opened The AUD to the fans, we're very blessed to have this team here." - Nancy Slade, season ticket holder
"I was going to go somewhere else, but as soon as I heard they were having the Watch Party I knew I'd be here. You just can't beat this atmosphere, it's definitely my favorite part, I expect it to be loud." - Joe Hughes, season ticket holder
---
Saturday, April 28 - Travel Day
Did you have as much fun as we did on Wednesday and Friday? If so, you're luck. Tomorrow, we will be hosting a Game Five Watch Party at the Adirondack Bank Center! Doors will open at 3pm and there will be discounted concessions, $3 draft beers and of course a live broadcast of the winner-take-all Game Five in Toronto!
The series is heading back to Toronto and the Comets make their way north today. Thanks to a 40-save performance from goaltender Thatcher Demko and two Reid Boucher goals, the Comets evened the series and forced a Game Five.
Check out all the highlights from last night's marvelous effort.
Comets will have their hands full in Game Five with the Toronto Marlies receiving reinforcements from the Maple Leafs in form of forward Andreas Johnsson and defensemen Travis Dermott. They will likely join the Marlies tomorrow after being loaned from the Maple Leafs following their game seven defeat in the Stanley Cup Playoffs.
Make sure you're following along tomorrow on Twitter and tuning in on AHL Live or KROCK if you can't make it to the watch party!
We'll see you tomorrow.
---
Friday, April 27 - Game Four
Here we are again, do-or-die at home against the Marlies. If Game Three was any indication, tonight will be a packed house with incredible energy and a lot of noise.
Few tickets remain for tonight's crucial Game Four, grab them as soon as you can!
Once again, we look to stave off elimination at home. Get the full report in our Game Four Preview.
Head Coach Trent Cull joined Halford and Brough of TSN 1040 Vancouver yesterday to provide updates on prospects such as Dahlen, Lind and Demko. He also spoke about the Comets season as a whole and the home-ice advantage the Adirondack Bank Center provides.
The Comets held a pretty typical morning skate and it appears a similar lineup to Game Three will take the ice in Game Four.
Head Coach Trent Cull and defenseman Jalen Chatfield spoke with reporters following the skate:
Head Coach Trent Cull: "This is what you work so hard for, to get in these pressure situations. Nothing changes for us, it's just four more games is all it is."
"Brisebois is a guy who had injuries this season, so it's great to have him back. I've also really liked Chatfield. He's been excellent for us, defending really well, his speed and both guys have done a really good job for us."
Defenseman Jalen Chatfield: "I love playoff hockey, I was able to play a little in juniors so I know how the pace of the game changes. Being able to play in playoffs in this league has been an adjust but I think I've been playing pretty well out there."
"It was so loud. I expected it, I heard about the whiteout and the fans really brought it up another notch. It was a lot of fun playing out there."
We're ready. You're ready. See you postgame.
Postgame:
Once again, the Adirondack Bank Center was ROCKING. Another incredible night, another incredible crowd.
The Comets once again fought to stay alive with another 5-2 victory over the Toronto Marlies. Read the full recap here.
Quotes:
Head Coach Trent Cull: "It's an emotional game for both teams, we put a little pressure on them and for us to start out at home it's really nice to get that first one."
Captain Carter Bancks: "We have a lot of belief in our dressing room. Coming into Wednesday we were confident we were going to win that hockey game and same thing coming into today."
Goaltender Thatcher Demko: "I'm just trying to enjoy it. I love playing with these guys and it's been a really fun year. When we came back home for Game Three we knew it wasn't the end of us."
Game Five on Sunday in Toronto for the chance to move on to the North Division Final. Puck drops at 4pm and you can tune in on KROCK or AHL Live.
---
Thursday, April 26 - Practice and Media Day
11:00am: Did you wake up still smiling? So did we, that was a fun night. Relive the magic right here.
Fan reactions continued to pour in on Twitter last night, once again proving that there simply is no better fan base in the AHL than Utica!
After that 5 on 3 we beat in the first I don't know if I've ever heard @ADKBankCenter louder. We need that kind of sound for three periods Friday @UticaComets fans! Send this series back to Toronto! #EmbraceTheChase

— The Other Green Man (@OtherGreenMan) April 26, 2018
---
We know that we can't wait for Friday's Game Four and we want you here. Grab your tickets at Empire State Tix before they're gone!
The Comets roster has seen an infusion of youth this season with players such as Zack MacEwen, Jonathan Dahlen, Tanner MacMaster and others playing a crucial role in the lineup. Getting accustomed to the American Hockey League is no easy task, but Captain Carter Bancks has been instrumental in helping their development.
1:00pm: The Comets had a limited skate as well as some players opting for an off-ice workout. Wacey Hamilton and Thatcher Demko spoke with reporters following the practice.
Quotes:
Forward Wacey Hamilton: "Obviously you want to be playing with the lead, that's not something we've had much of this series. That first power play goal by Bouch is really good for us to get things going, get the party started and get the fans into it. I can't remember the last time I heard The AUD that loud."
"Our backs are against the wall and we need to make sure we come out hard and have the same sort of start. I expect their [Toronto] best game of the series. They don't want to go back to Toronto 2-2 with the momentum on our side."
Thatcher Demko: "We're just trying to stay even-keeled, you can't get too high and you can't get too low in the playoffs. Every game is a must-win from here on out, so just focus on one at a time and prepare for tomorrow.
"I was just playing. It's just another game, you can't think too much about it. I've been able to play in some college arenas and international arenas, but I think last night is up there as far as energy in the building and the support was awesome."
---
Wednesday, April 25 - Game Three
It's been 728 days since the ice at the Adirondack Bank Center has seen Calder Cup Playoff hockey. Tonight, we reset the counter to zero.
The Comets take on the Marlies in a do-or-die Game Three. Get ready for tonight's game with our Game Three Preview.
The Comets held a usual morning skate and the mood was upbeat. As it was stated yesterday, the team remains positive, but focused.
It will be interesting to see which lineup the Comets decide to go with tonight. Jasek and Dahlen were swapped in game two and Vincent Arseneau was also a scratch in game two. Will the Comets go for speed and skill, or will they go rough and tumble? Time will tell.
Vancouver also reassigned Comets' leading score Reid Boucher to Utica on Monday and Head Coach Trent Cull classified him and a "game-time decision."
Ed Willes of The Province Vancouver yesterday wrote a story chronicling the relationship between the Comets and the Canucks.
Since Sunday, players and staff alike have said the fans in Utica will be a factor in tonight's matchup. It's time to prove it. Limited tickets remain for this pivotal game and you can get them here.
We'll see you postgame.
Postgame
Wow, our ears are still ringing. What an unbelievable night. The Comets defeated the Marlies 5-2 to stay alive and force a Game Four on Friday. Get the full recap here.
Hats off to you, the fans. From puck drop until the final buzzer, you kept the Adirondack Bank Center rocking. Be assured, it did not go unnoticed.
I've never heard the building this loud, not when we were in the finals, not ever, this is amazing #EmbraceTheChase

— Comets Army (14) (@CometsArmy) April 25, 2018
"They were awesome, when they were really loud it was unbelievable. It gave us the extra step that we needed." - Reid Boucher on the fans tonight pic.twitter.com/hMixLyW6CG

— Utica Comets (@UticaComets) April 26, 2018
Quotes:
Head Coach Trent Cull: "The crowd was into it, boy they were into it. It was a nice touch with Darren [Archibald] dropping the puck and everything. It was great to get back and have the home cooking."
Cole Cassels: "They did a hell of a job. We feed off that for sure, after that first period I don't think I've ever heard it louder than that."
We can't wait for Game Four on Friday, we know you'll bring it again, Utica. Make sure to grab your tickets while you can!
---
Tuesday, April 24 - Practice and Media Day
With the team playing back-to-back games and travelling home, only a limited skate was held yesterday morning at the Adirondack Bank Center.
Andy Zilch joined Rainman and Scoop last night for Comets Insider on ESPN Radio Utica-Rome to break down games one and two.
The Sporting News ran a solid feature on some of the Comets' young guns like Jasek, Dahlen and Lind and how they are adjusting to life in the American Hockey League.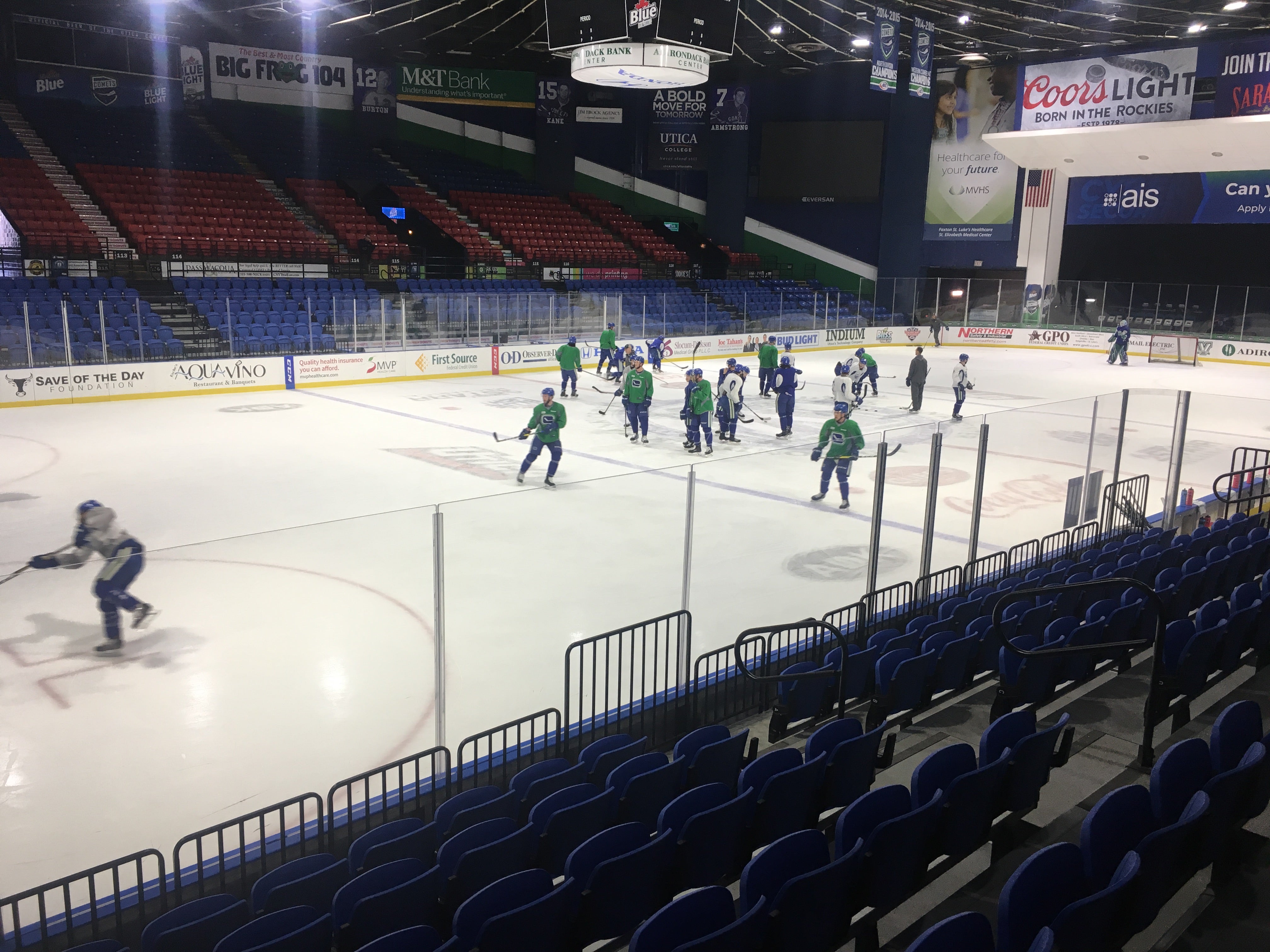 Today, the team took the ice for about an hour-long skate and took questions following their practice.
Quotes:
Associate Coach Gary Agnew: "There's still a level of confidence. We know we have our work cut out for us. It's the old adage, it's one game at a time, one period at a time. We felt good about our game one and game two, we were right where we wanted to be and unfortunately made a couple costly turnovers and it cost us."
"It's great to be home. There's some advantages, certainly the home crowd, it's our extra man. It's a great hockey environment and it provides a lot of energy for our club."
Forward Cole Cassels: "We've dealt with adversity all year. I have no question that we'll be ready for tomorrow."
"The crowd here is going to be a huge help. They've been great all year and it's going to be loud so we'll be playing hard tomorrow. We're excited to get back in front of them."
Coming Home:
Home-ice advantage is a serious factor in the playoffs. As Sheldon Keefe said on Saturday, Utica is "a hard place to play because of how loud it gets there."
We know the AHL's best fans will pack the house, make it loud and be a factor in Game Three.
Make sure you get tickets while they last!
---
Sunday, April 22 - Game Day
The Comets are back at it again today for Game Two of the North Division Semifinals. Despite the OT loss, the Comets have plenty of positives to glean from their Game One experience.
Thatcher Demko's 44-save performance earned him third star honors.
Michael Chaput's goal and assist gave him his fourth career multi-point playoff game.
The penalty kill, which finished second overall in the regular season at 85.5%, went 6-for-7.
Get ready for today's matchup with our Game Two preview.
Once again, you can get your Game Two updates on Twitter and tune in on AHL Live or KRock.
Postgame:
This was another tough one for the Comets. Once again, they battled hard and showed resiliency, but came up short. A Cam Darcy goal would tie the game at one, then Chaput would get his second goal of the series to tie the game at two. Unfortunately, the Marlies would score three unanswered goals to get the win and take a 2-0 series lead.
The penalty kill was again a big factor for the Comets going 6-for-7 for the second straight game.
Get the full recap here.
The series shifts to Utica for a do-or-die Game Three on Wednesday and we know it's going to be a hostile atmosphere for the Marlies. Having a loud, energetic Adirondack Bank Center will certainly be a welcomed sight for this Comets team. Be a part of Game Three on Wednesday by heading to Empire State Tix!
Quotes:
Captain Carter Bancks: "They're a good hockey team over there, we knew that coming in. I thought we played great last night, thought we were really good at times tonight. We're going to be excited to go home and carry this series on."
"Not a lot of these guys have experienced playoff time, but we know they're [the fans] going to bring us energy."
Forward Michael Chaput: "If we stay out of the box and we play them five-on-five, that's our chance to beat them."
"We're a hard-working group and that's been our motto all year. Play hard, play hard on the forecheck and that's what's going to work for us."
---
Saturday, April 21 - Game Day
Good morning, Comets fans! We've made it. After seven long months, here we are – the playoffs. Game One of the North Division Semifinals gets underway at 4pm today from Ricoh Coliseum as your Utica Comets take on the Toronto Marlies.
Before we get going today, Ryan Johnson joined TSN 1040 Vancouver and provided updates on players such as MacEwen and Jasek.
The team held a brief skate yesterday and ironed out a few details in preparation of game one. There was also a closed-door meeting following the skate with General Manager Ryan Johnson.
Given the 4:00 start times and back-to-back games, only a few players skated this morning prior to the game.
We're just about one hour away from game time, everything you need to know is right here in our game preview, follow along on Twitter and tune in on AHL Live or KRock.
Postgame:
Losing in OT is definitely tough, but what a statement by the Comets in Game One. The Comets played a physical brand of hockey and refused to go away, tying the game on two separate occasions.
As we discussed in the series preview, it was a goaltending battle. Demko made 44 saves and Sparks made 32.
The "Cardiac Comets" returned in this one, tying the game with less than a minute to go in regulation thanks to Michael Chaput, forcing overtime.
Get a full recap of Game One here.
During the first intermission, Andy Zilch spoke with Marlies Head Coach Sheldon Keefe and he noted how difficult it is to play in Utica because of how loud it gets at the Adirondack Bank Center. We're fully expecting his analysis to be correct on Wednesday when the series shifts to Utica for Game Three in front of the AHL's best fans.
Quotes:
Goaltender Thatcher Demko: "We've had some good games against these guys throughout the year. Every game with the exception of a couple were one goal games. It's all about the little details when it comes to playoffs, and I thought our team did a really good job of that tonight."
Head Coach Trent Cull: "Our effort was very good. We worked very hard."
"We try to keep it a tight game and capitalize on our chances. We have a team that plays tight for sure."
---
Friday, April 20 - Travel Day
One. Day. Away. All the hard work, the hits, the fights, the goals, the saves, the PTOs, the call-ups and everything in between adds up to this: The Calder Cup Playoffs.
Whiteout T-Shirts are back in stock and still just $5. We've extended our hours, the Team Store will be now open until 3pm today and tomorrow from 9 am to 3 pm. #EmbraceTheChase pic.twitter.com/0I4eBpsDbD

— x - Utica Comets (@UticaComets) April 19, 2018
Whiteout t-shirts are back in stock and the Team Store is open 9am-3pm today at the Adirondack Bank Center! You can grab your shirt for $5 along with our official whiteout hat!
The team leaves for Toronto today and will skate at 3pm.. Game one is tomorrow afternoon at 4pm, followed by game two Sunday afternoon at 4pm.
Views from the 6ix: Strong starts and better smarts are the keys to the series according the to the Marlies series preview, learn more about what the opposition is thinking: Strong Starts, Smart Systems Important in Round 1.
---
Thursday, April 19 - Practice at the Adirondack Bank Center
As the hockey community continues to come together in support of the Humboldt Broncos, the Comets, in coordination with the Save of the Day Foundation, will be auctioning off our game-worn Broncos tribute jerseys from April 13. They will be up for auction for a week and all proceeds will benefit the Broncos.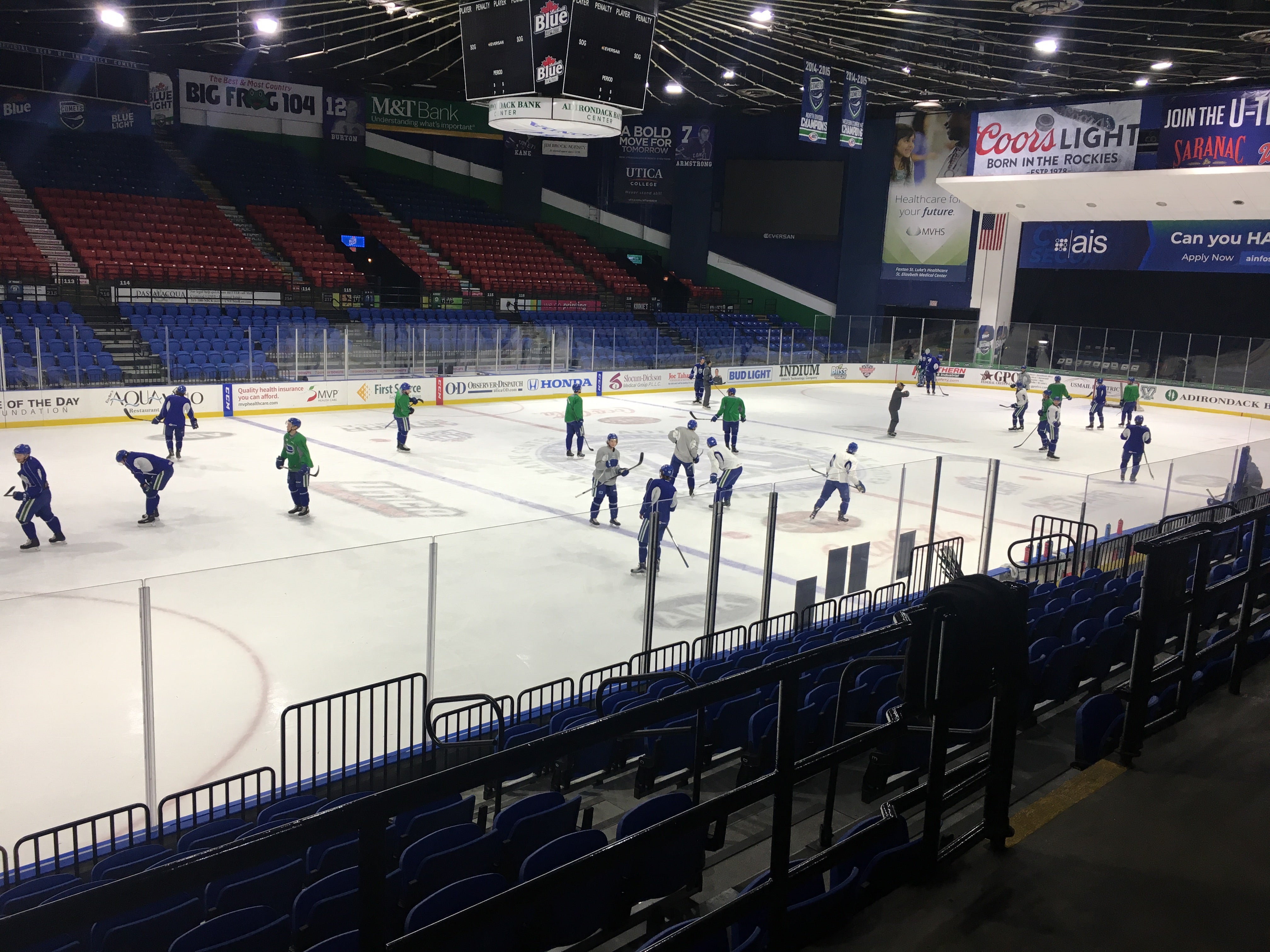 The team returned to the Adirondack Bank Center today and took the ice for practice around 11am. Special teams work took up a significant portion of the practice. As stated in our series preview, special teams will play a big factor in the upcoming series.
Head Coach Trent Cull put the team through the paces during the hour-long practice, marking another up-tempo morning on the ice for the Comets. The practice was fast-paced, talkative and altogether upbeat, a true playoff atmosphere. It's clear the Comets coaching staff is aware this upcoming series will be one predicated on tempo.
---
Wednesday, April 18 - Practice at Whitestown
For the second day, the Comets skated at Whitestown Community Center & Ice Rink. The intensity was evident from start with fast drills, work along the boards and physicality. There was also an attention to detail as the team looked to perfect their game plan for the Marlies.
The Comets also had a few radio interviews in Vancouver.
---
Tuesday, April 17 – Practice at Whitestown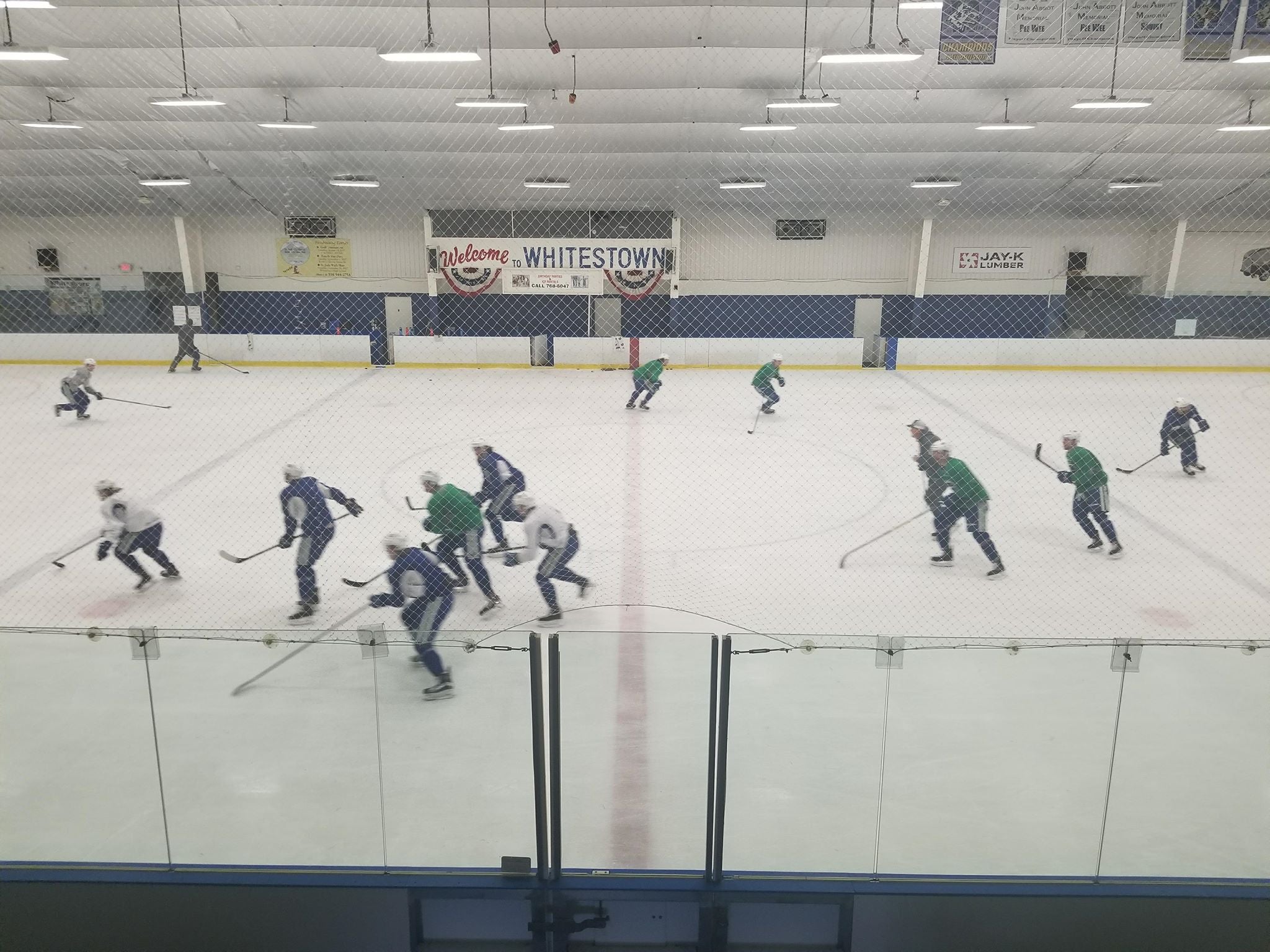 With events at the Adirondack Bank Center going on this week, the team took to Whitestown Community Center & Ice Rink for practice. The team spent around an hour or so on the ice.
With the returns of Megna, Darcy and MacEwen from injury coupled with players like Motte, MacMaster, Jasek, Dahlen and Lind being added to the roster in the past few weeks, the tempo was noticeably upbeat. It's clear there's competition among these players for roster spots and that's always a good sign heading into the playoffs.
Post-Practice Quotes:
Head Coach Trent Cull: "Playoff hockey ramps up about ten notches. Being part of the American Hockey League Playoffs before you have to make sure that everybody is on board and prepared to play. I'm excited for every time you get to playoffs, you work so hard all year; players work so hard all summer, all through training camp, all through the season, this is what you're here for. It's great and it gives meaning to the whole season. It's a complete different level of hockey and it's a hockey level it chews you up and spits you out if you're not willing to do the little things."
"We're not playing an easy team down the road, we're playing the best team in our division and the league. We have a huge challenge ahead of us and we'll take any advantage we can. We've played them [Toronto] well this year, we've had a variety pack of our line-up. For us, it's about us and we'll get ourselves together as quick as we can."
Defenseman Jaime Sifers: "We have a solid group of guys, I think we're ready for something like this. We've gone through a lot of ups and downs and this is no different. It's a great challenge ahead of us. You want to play the best and we look forward to it."
"Toronto's a great team. They have great team speed, they're extremely offensive and have great goaltending. It's going to be a big challenge for us, but it's something we're excited about. We're itching to get on the bus and get going."
"It's the best time of year hands down. We've celebrated as a team and we're happy with the way things ended up, but now it's time to get to work."
Goaltender Thatcher Demko: "He's [Garret Sparks] a good goalie. He's had a great year, obviously he's a guy we're going to have to try and get it. Get traffic in front of him and make life difficult for him every night."
"I'm really excited. The past experience I had in college, it was one and done with the tournament and these being series, it's a little bit different. I'm excited to go to battle with these guys."
Back to All