SEVEN UTICA JR. COMETS COMPETE IN QUEBEC CITY
Feb 26, 2017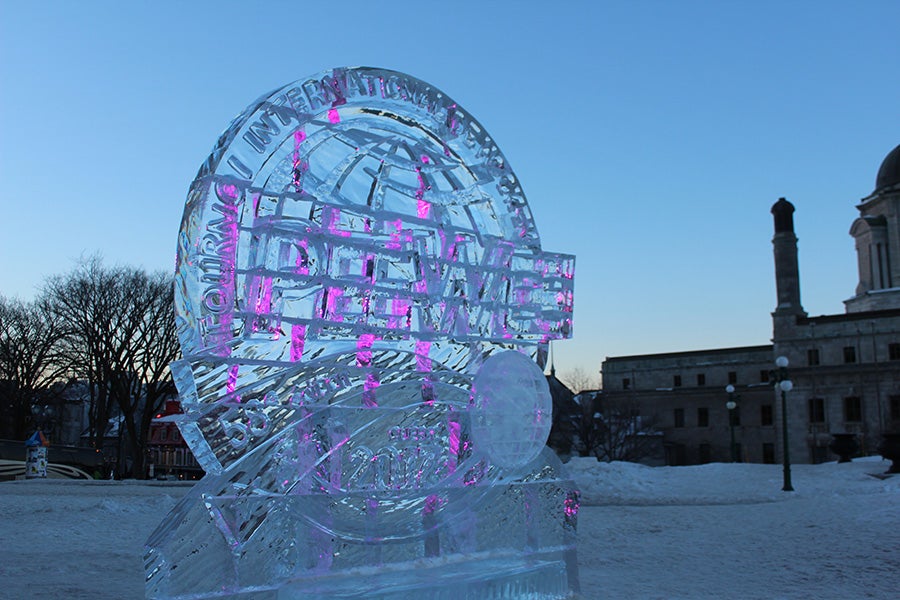 Those of us who remember our coaches from days of youth sports will picture names, maybe faces, and whether he/she was a good coach or not. For Comets President Robert Esche, memories of coaches from years past were, for the most part, nothing but memories. Little did he know that was all about to change.
While playing junior hockey for the Syracuse Stars during the 1993-94 season, Esche was coached by Syracuse native Don Kirnan.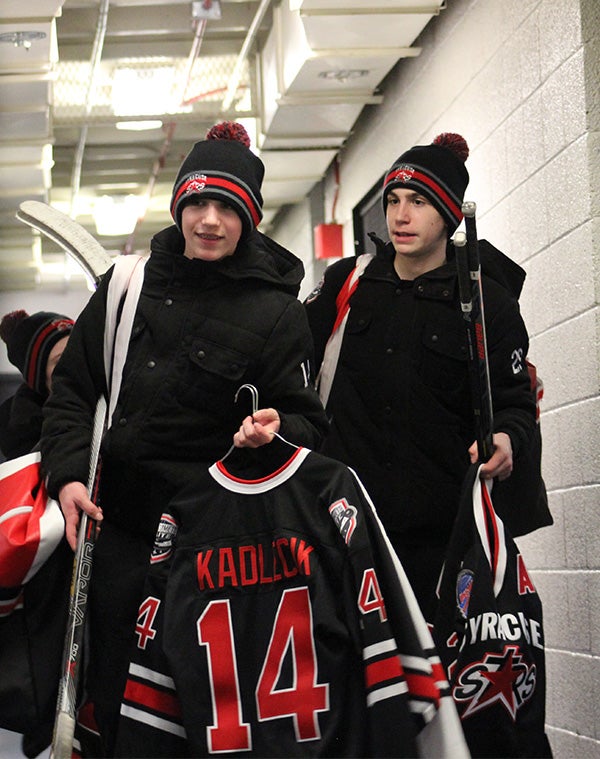 "Don was always looking to build not just a good hockey team, but also to continuously innovate and create things that our area hadn't seen before in conjunction with elite regional hockey," Esche recalled. "He always went above and beyond, which always resonated with me."
So last year – 23 years after Kirnan helped Esche advance his junior hockey and professional career – Esche was not the least bit surprised when Kirnan reached out and the two began to strike up a relationship again.
"We started chatting again, and when we were awarded Tier 1 status last year, he broached the idea of creating a regional team, under the Syracuse Stars brand, to compete in the 58th Annual Pee-Wee International Hockey Tournament in Quebec City, the best Pee-Wee level tournament in the world," Esche said. "I told him I was honored and all in."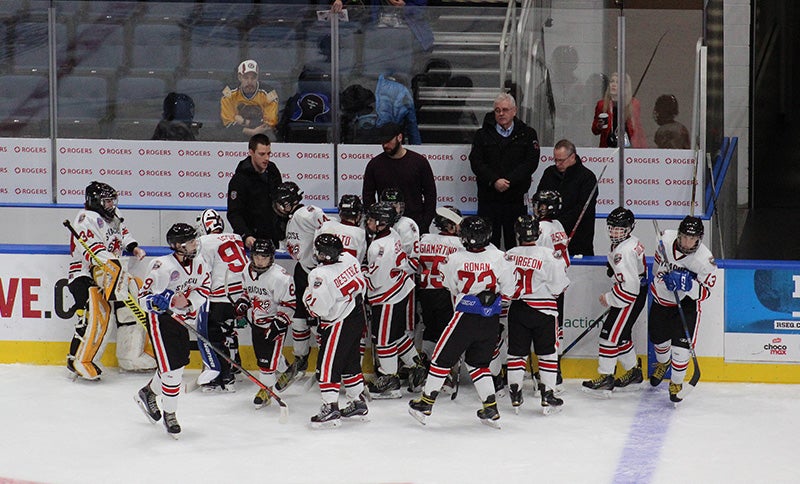 Kirnan was eager to build the partnership as well, stating, "It is easy to see why (Robert) is so successful in the area with all of his ventures. In looking back over the dozen players that I coached that made it to the NHL, I can't think of anyone that worked harder and continued to look for ways to improve. That is the work ethic it takes to be a World Class athlete. When Rob gives his time to these young players, they are very lucky to have him."
By putting their heads together and combining forces, Esche and Kirnan, along with Kirnan's daughter, Nicole, and Comets staff member Adam Pawlick, made the Quebec dream a reality for their elite-most players by creating a regional Syracuse Stars Pee-Wee team, comprised of central New York's best players. On February 9, seven Jr. Comet players and their families made the seven-hour trek up to Quebec City to compete in the Pee-Wee International Hockey Tournament. 160 teams in five different classes from around the world attended the tournament, which spanned ten days and featured the top-tier talent at the Pee-Wee (12-13 years old) age level. For the Jr. Comets players involved, who just received their Tier 1 status last year, this was a dream come true.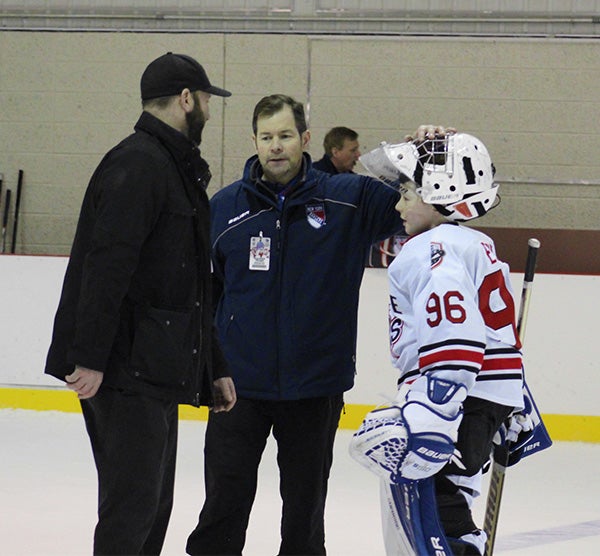 Due to the high level of the tournament, each team was guaranteed two games; after the first game, the tournament became single elimination. After an exhibition game against the Arizona Bobcats, the Syracuse Stars faced off against Ldinka, a team from the Ukraine, at the Videotron Centre, a state-of-the-art rink that is over a year old. In front of over 9,000 fans, the Stars came out victorious in overtime, 3-2, thanks to a power play goal from Jason Shafer.
After getting knocked out in their second game, the Stars continued to play a number of games throughout the week to improve their level of play and experience a wide array of opponents. Two of their games also took place in a rink at a mall, where a roller coaster wrapped around the rink and over the ice during play. Throughout the week, the Stars faced off against the New York Rangers (coached by Mike Richter), the Anaheim Jr. Ducks (ranked 12th in the nation and coached by Scott Niedermayer), and the Philadelphia Jr. Flyers (coached by Simon Gagne and Bob Kelly). The Stars also came out victorious over teams from both Slovakia and Switzerland.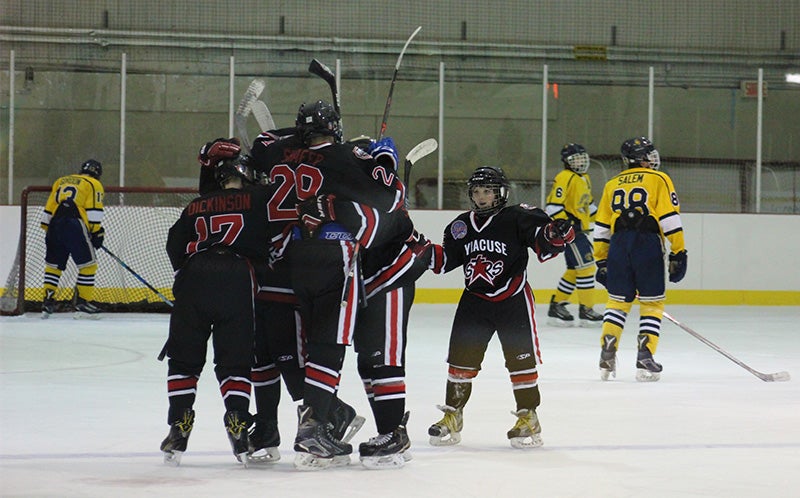 The week in Canada also gave players and their parents some time to walk around Quebec City and partake in fun activities, such as pin trading and tobogganing. With its European feel and flair, Quebec City was a first for many of the players, as they marveled at ice sculptures, narrow cobblestone roadways, and local shops and vendors.
"The Quebec Tournament was a remarkable tournament that put the kids on a world stage at an extremely young age," Esche explained. "For kids that are serious about committing to hockey, this was the perfect first look at what the compete level will feature at the top. This is the only tournament of its kind and we were lucky to begin the tradition of attending in 2017."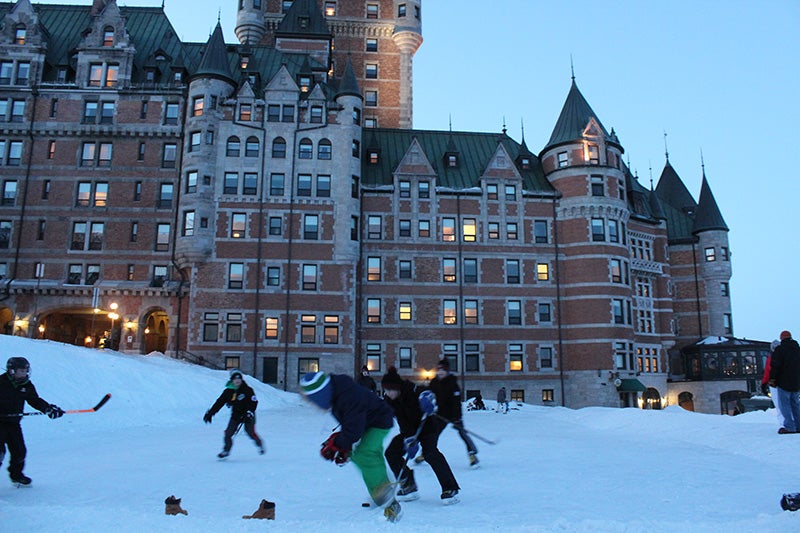 As the youth players get back into their regular practice routines and gear up to head back to school, it is Esche and Kirnan's hope that they soaked in their time in Quebec and will hit the ice with a new outlook on a career in hockey.
"We are continuously looking to elevate the level of hockey in our area and starting the tradition of playing in the Quebec tournament did just that," Esche added. "With Tier 1 status and a ticket to Quebec, the future of our youth players is brighter than it's ever been as we move into playoffs and preparation for 2018."
Back to All