SIFERS VISITS CNYVOC
Feb 20, 2018
Comets defenseman Jaime Sifers has made it his mission to get involved with the veteran's community throughout his hockey career. In his first season with the Utica Comets, the 2016-17 IOA/American Specialty AHL Man of the Year finalist has been committed to doing just that.
It's the day before a game - most hockey players can be found preparing for tomorrows opponent. Jaime Sifers, however, commits time to meet with local veterans at the Central New York Veterans Outreach Center.
In September 2008, the Utica Center for Development began occupancy of the former YMCA building at 726 Washington Street in downtown Utica. By December 2008, veterans' services were being offered at the site's new Central New York Veterans Outreach Center.
Sifers was joined by Wacey Hamilton as the two were given a guided tour of the facility by Vincent Scalise, Executive Director of the CNY Veterans Outreach Center. Scalise also described the numerous programs available to the community. From job search support to art therapy classes, boxing lessons to housing placement.
"My recent visit to the CNY Veterans Outreach Center was eye opening. The work that Mr. Scalise and his team have done to help the veterans of this community and those in need of a fresh start, is endless," said Sifers. "Centers like this are such a valuable asset to the communities they serve and I'm thankful for the chance to meet with our countries veterans and learn about their service."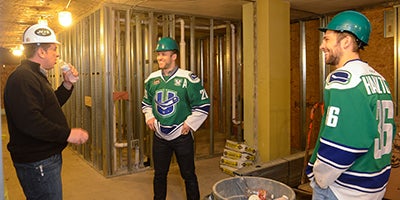 "As we strive to make a better opportunity for our local veterans and their families, it makes us feel appreciated by the community when beloved members of the Comets take time out of their schedule to visit us," said Scalise. "We all appreciate having the Comets as our local team and it is such a great feeling to know that they appreciate us back. And any opportunity to raise awareness of what we do only serves to further of mission."
Sifers also participates in the Utica Comets Hometown Hero program. Each night, a veteran and his/her guest, usually arranged through the CNYVOC, are given two seats at the game, a food and drink package, recognition during the game and a customized jersey for the veteran as well as a gift certificate to Aqua Vino Restaurant. After the game, they are escorted down to the locker room area where Sifers meets with them, learns about their story, signs autographs and takes photos.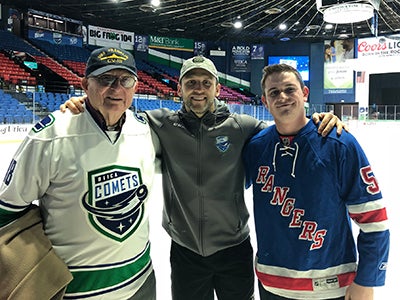 Sifers recently tweeted after meeting Hometown Hero, Jack Hensel: "My father has always told me the WWII generation is the best ever, he's right! Meeting WWII hero Mr. Jack Hensel & his grandson (Jack) was simply amazing. His advice to me was simple...find happiness everyday. My girls & my teammates thank you for your service!"
For more information, please visit http://www.ucdevelopment.org/.
Back to All