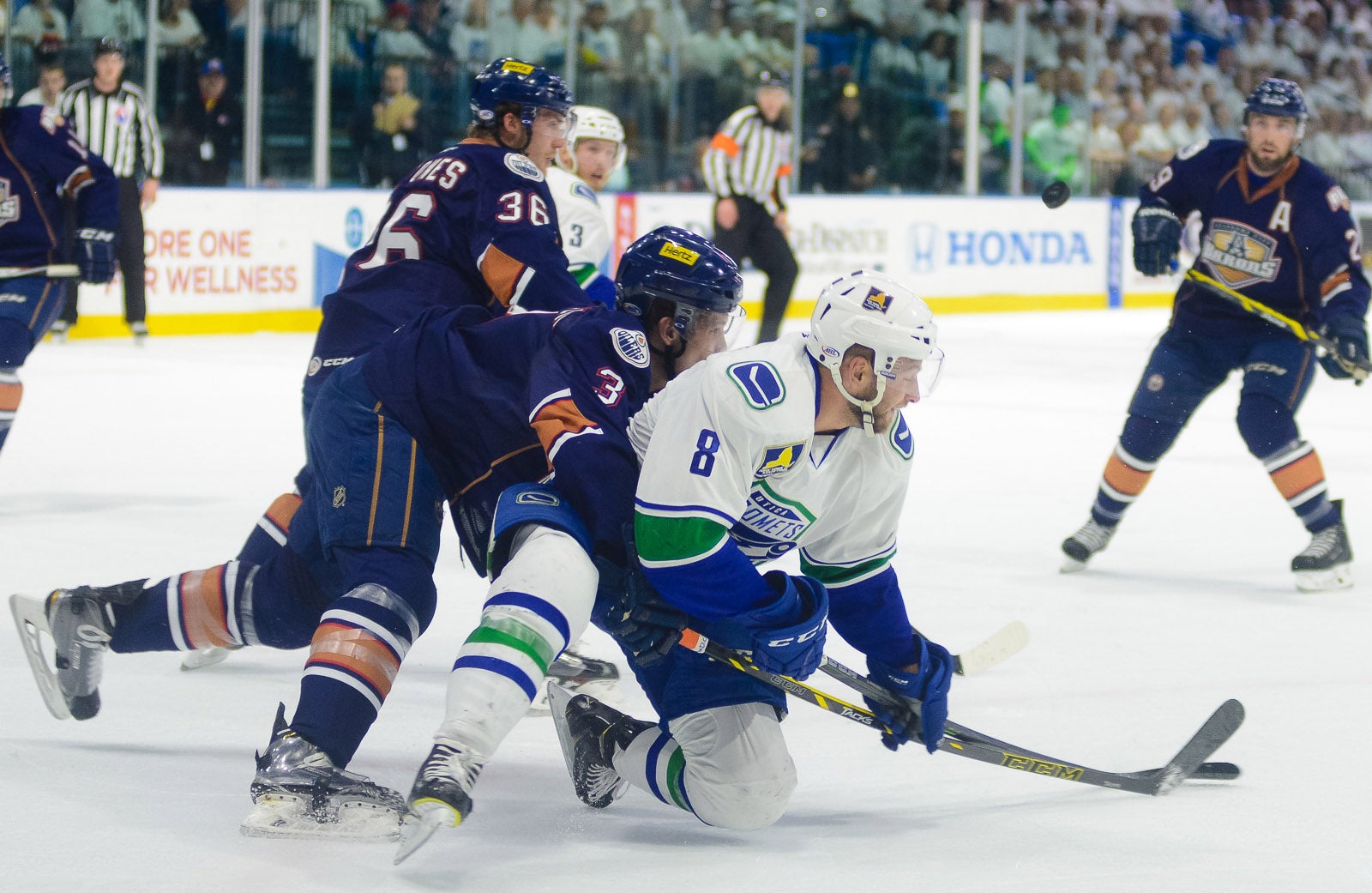 Sixth Longest AHL Game Ends in Barons Favor
by Mark Caswell, Jr.
May 7, 2015
Thursday night at The Utica Memorial Auditorium saw the sixth longest professional American Hockey League game after the Utica Comets dropped Game 1 of the Western Conference Semifinals to the Oklahoma City Barons 2-1 in Quadruple overtime.
Jacob Markstrom made some highlight reel saves on his way to recording an AHL career high of 65 saves.
Stay-at-home defensemen Kent Huskins (1-0-1) scored the Comets lone goal of the game and his first goal of the Calder Cup Playoffs against Richard Bachman who wound up stopping 56 of the Comets 57 shots.
A very uncharacteristic start to the first period left the Comets trailing 12-6 in shots after the first 17 minutes but that didn't stop them from lighting the lamp just moments later. Darren Archibald set up defensmen Huskins with a drop pass to the high slot and Huskins' point blank shot flew past Richard Bachman's glove-side to give the Comets the 1-0 lead. Brandon DeFazio tallied the secondary assist on Huskins second goal with the Comets this year.
With the start of the second stanza also came Oklahoma's equalizer just past the four-minute mark. Kellen Jones was the go-getter for the Barons as he danced in through both Biega and Ehrhardt and deked his way past Markstrom's right leg pad to make it a 1-1 game.
And after 60:16 minutes of overtime hockey, Curtis Hamilton netted the game-winning goal off of a give-away in the Comets zone. The puck slipped past Markstrom's right pad, which ended the game with a final score of 2-1.
Neither team will have much time to rest because Game 2 will be taking place once again at The AUD on Friday night just before both teams travel to Oklahoma City for Games 3,4 and 5 (if necessary).
Three Stars: 1. OKC– Richard Bachman (56 Saves, Win) 2. UTI – Jacob Markstrom (66 Saves) 3. OKC– Curtis Hamilton (1 Goal)
Back to All