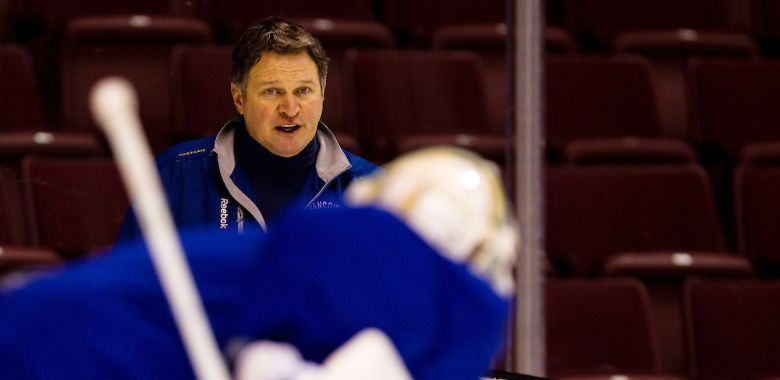 Comets Tales: Welcome Back Roland Melanson
by Don Laible
Oct 19, 2016
Vancouver Canucks' goaltending consultant Rollie Melanson knows his way around The AUD.
Two days prior to the Utica Comets beginning their fourth AHL season, in Toronto, Melanson is finishing up his latest visit to the Mohawk Valley. It's 10:30 a.m., 30 minutes before the Comets' full squad hits the ice, and he is armed with a blue bag filled with pucks. His only other tool is a stick. Dressed in a Comets' blue track suit, the 56-year-old three-time Stanley Cup champion is ready for work. He tips the bag over, and the pucks spill onto the ice in all directions. His pupils - Thatcher Demko, Richard Bachman, and Michael Garteig, stand patiently, as their tutor shares his expertise.
Now, in his sixth season working with Canucks' prospects, Melanson is no stranger to the confines of The AUD. It's a homecoming of sorts each time his schedule brings him back to Utica.
For two seasons (1989-90 and 1990-91), Melanson took to The AUD's ice armed for battle in a Utica Devils jersey. For 100-plus games, the goalie from the Canadian Maritimes was the mainstay in nets for the New Jersey Devils' AHL affiliate.
" Lou Lamoriello was the general manager at the time," said Melanson. "And he signed me during the summer of 1989. He wasn't sure if Chris Terreri was going to sign, so he brought me in on a one-way deal. Craig Billington had a good camp with New Jersey. So, the two of us were in goal that year."
Melanson played professionally for 14 years, 11 of those in the NHL. Without prompting, he rapidly fires off names of his Utica teammates of more than a quarter-century ago with relative ease.
Working part-time for Vancouver, after 35-plus years in professional hockey, Melanson's schedule now allows for more family time.
"This is the first time that I'm doing this," Melanson offered. "I'll drive four hours from Utica to Montreal. Then, another eight hours to Moncton."
Melanson's typical coaching schedule calls for being 10-14 days "on", each month.
Being able to spend time with his two grown sons and his fiancé Lyne in Montreal, is important for Melanson. Returning to his hometown of Shediac, New Brunswick (15 miles southwest of Moncton) in Atlantic Canada is another reason why Melanson has cut back his schedule in recent seasons.
Dan Cloutier, who spent time in Utica educating Comets' goalies the past three years, is now Vancouver's goaltending coach. The hundreds of miles driving solo back to Shediac, billed as the Lobster Capital of the World, allows Melanson an escape to private life - briefly.
"I'm in my 22nd year of coaching. It has been a great ride," stated Melanson. "I enjoy spending time with the kids."
Since re-introducing himself to The AUD, Melanson is nothing short of being amazed at the transformation that has occurred. "Robert Esche has done an outstanding job in getting hockey here back on track. The crowds are amazing. Travis Green has his players in a good place."
Melanson refers back to his Cup winning years with the Islanders as a basis to his teachings today. Hard work and passion is a combination that the former goalie preaches.
"Goalies like Demko need to be put in a situation where they play 60 games in the minors," said Melanson.
Winning his first Cup at age 21, Melanson, labels that experience as amazing, but doesn't believe kids today should be put in such a pressure situation.
Following his passion to teach, and reminding himself of his former Utica coach Tom McVie's way of "running a tight ship", Melanson passes on his decades of wisdom to his Comets' students. After working with goaltenders such as Roberto Luongo, Cory Schneider, and Jacob Markstrom, preparing the next generation of Canucks' netminders in Utica is what "Rollie the Goalie" happily takes on.
Written by Don Laible
Back to All